Howl-O-Scream review: 3 perspectives on the 13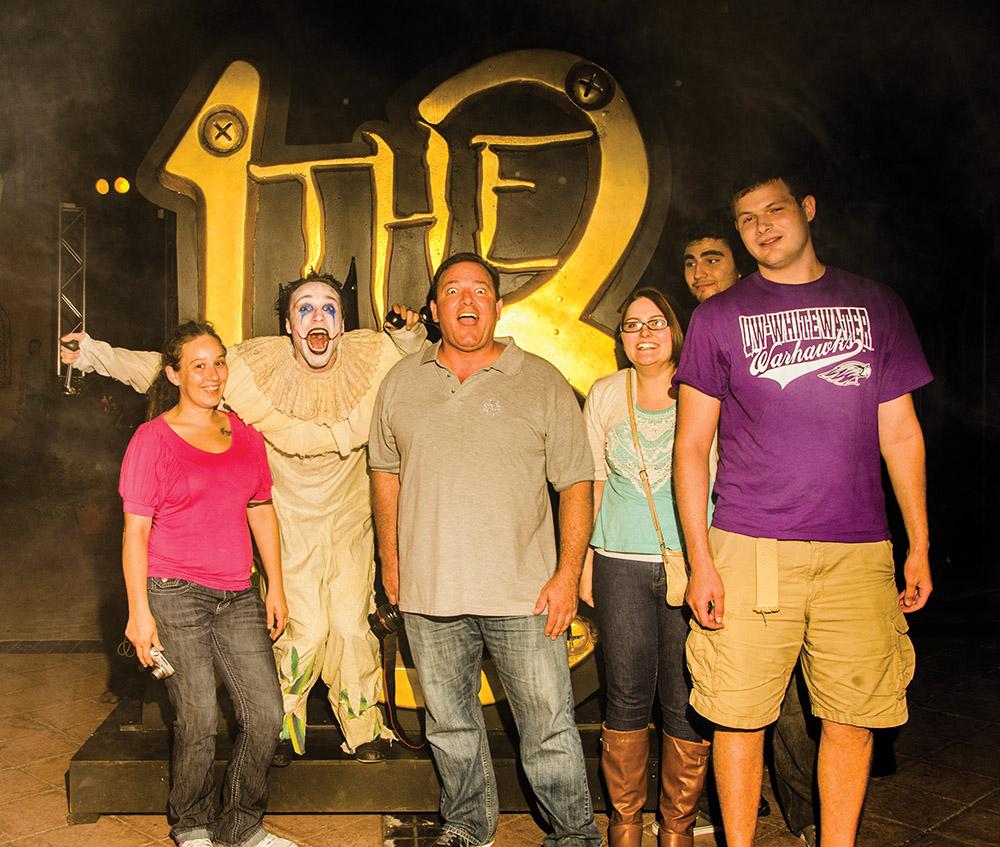 Ammon Bradford
Howl-O-Scream has been a fun, albeit terrifying, tradition for 12 years. It was only a matter of time until the unlucky number 13 would finally be used as a theme after many "Dark side of the gardens" themed years.
On October 10, media students from HCC were invited to come and experience all of the thrills and chills that the park had to offer. Open from 7 p.m. to 1 a.m., we were given free reign of the park, able to enjoy everything from frightening haunted houses to thrilling roller coasters.
As soon as you enter the gate of this year's event, you are greeted by 13 doors, each one housing a different terrifying "Scaractor". Scary clowns honked around the scene as Satan or a deranged nurse tapped your shoulder. Everywhere you look when you enter the park is full of fast moving nightmares.
From Krista's perspective:
Our first stop was the Bayou themed haunted house called Death Water Bayou. I rate it 3 out of 5 screams. The outside of the house looked like a small shack in a swamp, the dark lighting adding to the eerie effect. Immediately upon entering, we were greeted by startling warnings not to enter here. A woman who resembled Calypso screamed from inside of a cage. The lights grew dimmer as we entered, and were pushed into a tunnel with swirling, dizzying walls. Shortly after, we were greeted by a strobe light and monsters popping out at every turn. It was very easy to get disoriented and not know which way to turn before you were greeted by another scary face. After a room of mannequins, who were, by the way, not all mannequins even though they all looked exactly the same, we came out of the dizzying haunted house that was the Bayou. I think that this was not as scary for me as it could have been, primarily because I am not particularly afraid of swamp people or Calypso. I was able to talk myself out of being scared by thinking that they all just looked like they could use a shower.
From Jessica's perspective:
After waiting a dreadful 35 minutes, I visited the "Death Water Bayou". I was greeted by a voodoo queen in a rocking chair. There were many zombie looking creatures lurking and jumping out of every shadow. I did not like walking through the spinning tunnel. However, I really enjoyed the shady men in bondage face masks lunging out and quickly flying back with their elastic ropes. They were the scariest part of the haunted house. It was a nice touch at the end of the three-minute walk through. I rate this with 3.5 screams out of 5.
From Chris's perspective:
The haunted house, "Death Water Bayou", is clearly a Florida swamp themed haunted attraction. Waiting in line, guest will be able to see a small run down wooden house that they will be entering. Inside the house is decaying wood that seem like it is going to snap any second. 3 Screams.
The next thrill we sought was the Montu roller coaster. Nothing out of the ordinary or scary about it, except that the night air feels even cooler from the free fall of a roller coaster.
We set out to find the next haunted house, one that I found terrifying to even think of: clowns! To get to the clown house, you must walk through multiple scare zones, which were a bit more scary than the haunted houses. It was very dark, and hard to tell who was a bush, a fellow visitor or a scary monster.
There were multiple times that we were startled by a zombie or a tree person leaping from the shrubbery. We found ourselves trying to find ways around the scare zones, and hesitated to enter them as the mist and fog crept around our feet, luring us in.
Finally, we arrived at the Circus of Superstition. We began to get in line, but upon realizing the wait was long and having a small mild panic attack, some of us were less willing to face our fears.
Still a number of us went in. This house has guest wear 3D glasses. The 3D glasses really throw off the guest from telling what is a picture is and what a real live clown. For this reason, I give the Circus of Superstition 4 Screams out of 5.
Unfortunately, our journey felt cut short due to the long wait times. The main roller coasters were closed, with only Montu and Cheetah Run open for the night. Many of the haunted houses were hard to find in the dark lighting, and once you did find them, the wait times were up to two hours, making it impossible to visit all 13 houses in one night.
It was ultimately a fun trip, and Howl-o-Scream lived up to its name, causing me to scream and shriek like a child. The park, overall, is a better value than driving to Halloween Horror Nights, and was terrifying just the same.