Will Tampa keep truckin?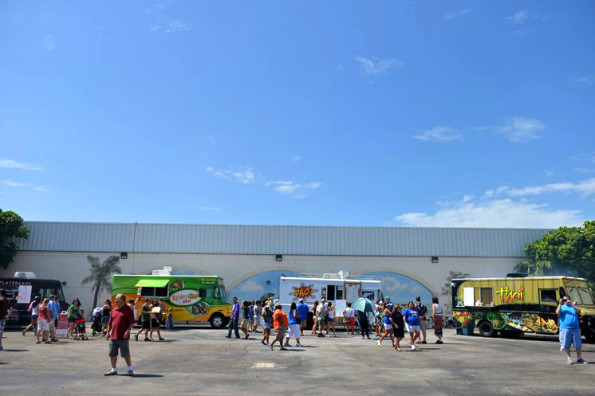 Tampa residents were stunned to find they broke a Guinness world record with the latest food truck rally. On August 31, the I-4 exit was backed up for miles before 8 a.m. 99 food trucks rolled into the Florida State fairgrounds demolishing the 62 food truck record held by Miami earlier this year. The Tampa Tribune, The Florida State fair authority, and 98Rock were just some companies to get this event rolling. At 11a.m., Mayor Buckhorn rang the dinner bell and let the feast begin.
The competition was fierce, especially between rival trucks. There is much more to offer than the delicious BBQ smoker or a taco bus. The smells of lobster bisque, lobster macaroni and cheese, pastries, brownies, empanadas, gelato and cheesecake all lingered. Intense heat caused trucks offering gelato, polar cups, smoothies, and fruit pops to sell out quickly.
Jeremy Gomez, the event organizer, is planning to double the trouble next year on March 22. He expects 200 food trucks to set up at the Florida State fairgrounds next time.
Being the first year, many trucks ran out of food and propane numerous times before the event ended at 8 p.m. Vendors say the volume of customers doubled their expectations (32k) leaving them unprepared. It will not happen again.
Most guests were pleased with the family-friendly event, regardless of the hiccups.
Maria T. Owens tweeted, "It was a great event Saturday, despite that at 3:00 p.m., a lot of trucks were out of food after we made the lines. I am ready for 2014!"
Mark Lastra of Tampa shared on Facebook, "The lines were long, but we enjoyed it so much that we are looking forward to March 22, 2014, and will be better prepared. [So,] get there early and hit the more popular trucks first."
This will surely be an annual event for Tampa, and it's expected to improve with time. The Florida State Fairgrounds agreed to open both entrances in March to help with parking. They also plan to provide more recycling receptors for all the beer cans.
Other things like pavilions, shade umbrellas, more chairs and picnic tables, maps and menus of the food trucks, and more water have been suggested by guests.
Over 100 food trucks are already confirmed for the next food truck rally. The next food truck rally will be held on March 22, 2014 at the Florida State Fairgrounds.