Volleyball team prepared for season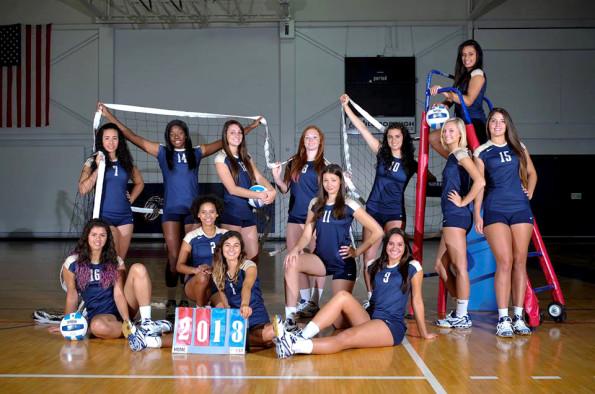 Hillsborough Community College's Volleyball team is starting the season with more potential than any other season.
Currently, the team is ranked 4th in the nation and looking to improve on this "team best" mark. This is partly due to the success that the 2012 squad had last year after going to nationals and finishing the season as the 7th ranked team in the country. The team is also returning eight sophomores, including Mariam Maldanado, Nicole Higgins, Shelby Walker and Andrea Tauai.
"As a third year sophomore, you know the program, you know the coaches, you know each other well, so it's been kind of cool seeing the difference in the teams' the past three years," says Higgins. "This year we're all really, really talented, and in practices, it's always very competitive. Anyone of us can play any position. This year we're taking it up to another level," she adds.
"It feels like this year, I am more mature and ready to play, and the team is responding very well. There's a lot more opportunities and better chances for success," added Maldanado.
The Lady Hawks have increased their goals since last season as well. "As a team , I feel like we want to finish first in our conference, we want to be state champs," says Tauai, "because last year we came in second. In Florida, there is really strong competition. It will prepare us for nationals," she adds.
"Last year, I felt like it was our goal to get to nationals just because none of us had ever been. Now that the sophomores have seen what we can do and our potential, we can't just make it to nationals, we have to win the championship," said Higgins.
The team has already produced memorable moments this season which include two victories over the College of Central Florida, who have been a thorn in HCC's side over the last three seasons. "We went to states and we're undefeated my freshman year," says Higgins. "All we had to do was beat Central Florida once to get to nationals. We had never beaten them before when we went into the tournament here and we beat them. I felt like that was a big moment for the team. That day we beat a great team," she adds.
"We prepared the whole week. Not just volleyball wise, we were mentally getting tough for that game," declared Maldanado. She adds, "We proved that we can be an even better team than that sixth ranking."
This team is not content with their early success, and when asked about their ranking, Tauai replied, "Being sixth in the nation is great. Coaches are trying to humble us every single day. Trying to keep us working hard instead thinking we're sixth, oh we're good. They want more than for us to settle for sixth."
Just like any team, they want and need fan support. "I encourage everyone to come to one game. If you come to just one game, you will love it. It's free for the students with an I.D." says Maldanado. "Just come along to the games, we're a bunch of talented girls," adds Tauai.
With an immense amount of ability and the possibility for the Lady Hawks to have the best year in school history, it would definitely be worth your time to stop by and see this team play. Home games are held on Thursdays at the Dale Mabry campus.