First Friday
Hang on for a minute...we're trying to find some more stories you might like.
The artistic district of Downtown St. Petersburg is home to several art galleries, theaters and performance venues. The first Friday of every month is a chance for locals and tourist to enjoy great music and drinks in the heart of Downtown St. Petersburg. The music series event is held on Central Avenue between 2nd and 3rd street, from 5:30 pm to 10:30 pm.
After the sun sets on the first Friday of every month, the streets of Downtown St. Pete turn into a night life paradise. For those who are of the legal drinking age are able to enjoy most venues open to general public. The streets are lined with local breweries, bars, night clubs, vendors, restaurants and music venues are filled with crowds of people eager experience First Friday. The monthly event is a chance for local bands to gain exposure by performing original music and covers of popular songs to attract the passing crowd.
While most bars provide live entertainment, the night clubs are thumping with the heavy base of music from the Bay area's hottest DJs. Flashing lights, fog machines and rhythmically moving bodies take control of the dance floor in night clubs all over Downtown St. Petersburg. The clubs don't just play great music, they also provide great service! The bartenders and cocktail servers are highly attentive and always friendly. Most clubs will also offer the option of a unique signature cocktail. With hundreds of drink choices and dozens of bars and clubs, First Fridays have enough activities to satisfy all entertainment preferences.
The city of Downtown St. Petersburg assures public safety to be the top priority during First Fridays. The St. Petersburg Police Department provides crowd control by monitoring activity and blocking off the streets way for accessible pedestrian use. Unlike most nights in Downtown, outdoor drinking within the perimeter of the event is allowed. However, a zero tolerance policy is enforced during First Fridays. Any disorderly conduct and violation of the policy will result in disciplinary action. Experience First Friday first hand, but please remember to drink responsibly.
Downtown St. Petersburg is full of friendly people from all walks of life who are just looking to enjoy a night on the town. The lively crowd, free admission and competitive drink prices are why Bay area locals consider First Friday the ultimate hometown hangout. The diverse crowd creates a vibrant unique atmosphere that is incomparable to any other events in the Tampa Bay area.

About the Writer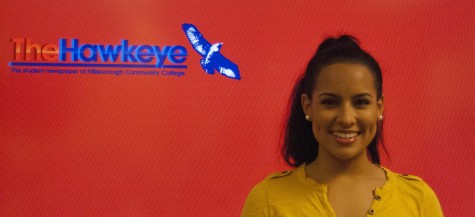 Suehally Macias, Managing Editor
Suehally Macias is a Managing Editor of The Hawkeye
   Suehally was born in Bronx, New York and has been living in Florida since 1994. Suehally...