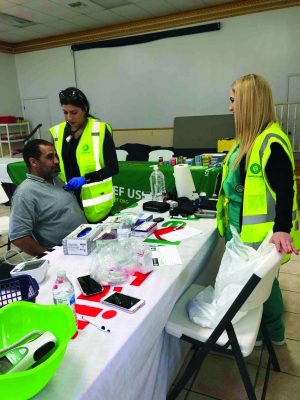 The weather is changing, it's getting colder, people are getting sick, and 3.2 million Americans are uninsured.
ICNA Relief (Islamic Circle of North America) and The Islamic Society of St. Petersburg teamed together to make a free health fair that is open to the public.
The Health Fair took Place at the Islamic Society of St. Petersburg on Saturday, January 26th from 10 am to 2 pm.
During the Health Fair, there were also other events going on like free haircuts from barbers, jumpy houses for the kids, and free barbecue lunch.
The St. Pete mayor came out with his family and was amazed by what he saw. For an event to be that great and 100 percent for free was unbelievable to him.
Unfortunately, that has been the reality for over 15% of Americans. Relying on donations, free health clinics and health drives for even a regular checkup. One patient that was there stated that she hasn't been to the doctors or gotten a cheap in over 5 years. "The medical bills just got too expensive and I'd rather put food on the table for my kids." Which the doctor responded by saying "That is exactly why I volunteer my extra time at events like this" Why do we live in a society that makes its people choose between getting checkups and providing a meal for your kids.
Most college students are uninsured and haven't gotten a checkup in years. That is why it's so important to educate yourself on your community. Like ICNA Relief there are so many organizations that do the governments work. Bring your family in, don't be ashamed or embarrassed. Luckily the doctor that volunteered also works at a free clinic called Red Crescent so he was able to forward his new patient's information there.
Until universal health care becomes a priority in this country citizens will have to rely on nonprofits to try and help them out as much as they can.
Thankfully the event was a huge success. All the praise goes to the community because if it wasn't for them there would be no events or aid, the people have to want it to receive it.
The message that the Muslim community is trying to convey is "we are here for everyone, we hurt when we see the community hurting. Unfortunately, we've all been hurt by this government shutdown, and this is just a little gift to you.