USF standouts from Townson game
Daniel Statter, Staff
September 19, 2016
Hang on for a minute...we're trying to find some more stories you might like.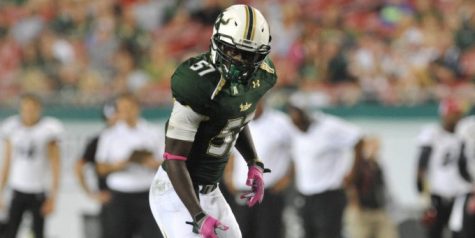 Photo courtesy of gousfbulls.com
The Bulls started the season 1-0 after defeating the Towson Tigers 56-20 in front of 35,976 fans.
This was a team effort that required the offense and defense to contribute equally.
The offense tallied up 230 passing yards and 214 rushing yards on 41 carries. The defense only allowed 20 points and a total of 292 combined yards. This was a perfect game to get the season going, as they take on Northern Illinois next at Raymond James Stadium.
Now, there were many big plays and overall games by multiple players, but only five guys who stood out to the public will make this list: Quinton Flowers, Nigel Harris, Marquez Valdes-Scantling, Rodney Adams, and Darius Tice.
First off, Quinton Flowers started the game shaky in the passing department by going 3 for 7 with 1 passing touchdown and 1 interception, but eventually he got going through the rest of the game.
He went on to complete 5 of 11 passes for 98 yards and 2 touchdown passes.
Head Coach Willie Taggart takes some of the blame on Flower's struggles out of the gate, as he came out and said in his news conference, "I didn't make it easy on him, I said let's go deep, and I didn't get him a chance to get warmed up." Flowers' ability to use his legs kept the plays alive, as well as getting crucial first down and finding the end zone. He finished the night on the ground with nine carries for 46 yards for a 5.1 average per carry to go along with two scores.
Senior linebacker Nigel Harris was the first defensive player on the Bulls to stand out in the first half. He played some of the second half, getting nicked up and missing plays, but the Bulls were already winning by a large margin. Harris recorded the Bulls' and his first sack of the season, and he only had great things to say about it.
Harris came out to the press and said, "My eyes just got so big and it felt so great, I did it for my teammates." He also went on to credit his fellow teammate Mike Love. "Also, my defensive end Mike Love made a note to Coach that the offensive tackle was offsetting pretty hard, so I made a check inside to the B gap." Along with the sack, Harris finished the night with six tackles (two solos, four assists) with one interception that he returned for 49-yards. Coach Taggart was excited for Nigel when he picked off that ball. "I was hoping he would have gotten in the end zone to solidify some things, and Nigel needed a game like that to solidify his offseason," Coach Taggart said.
Back to the offensive side of the ball, Marquez Valdes-Scantling made his University of South Florida debut after sitting out last season from transferring from North Carolina State to the USF. He made a nice impression in front of the fans, his coaches and teammates by grabbing 3 passes for 79 yards, with one pass resulting in a 51-yard touchdown. His first career catch was a 28-yard pass in the open field that helped set up Marlon Mack's score on a 5-yard run. Marquez spoke on his performance by coming out and saying, "I felt like I left some stuff out on the field, but there is definitely more room for improvement."
Furthermore, with Marlon Mack leaving the game early due to an injury, D'Ernest Johnson and Darius Tice stepped up big time. Tice kicked off his 2016 campaign by catching his only pass of the game for a 43-yard score and by shaking the defenders out of their shoes.
This was the Bulls first touchdown of the season. He did pick up 32 yards on 6 hard fought carries, which equates to 5.3 yards per carry.
Finally, Rodney Adams was the utility man of the game by providing solid play from the returning game, and either catching or running the football. The St. Pete native picked up 2 receptions for 20 yards, but he had the biggest play of a USF player during the game: a 52-yard kickoff return. Adams picked up 37 yards on the ground, while running the ball 4 times and scoring once.
Interestingly enough, he picked up 9.2 yards per attempt with his longest run sneaking in at 17 yards. Taggart was a happy fellow when Adams stepped up to the plate. "Rodney got us going on one of those plays and got us playing better offensively," Taggart said.
For the Bulls full schedule visit:
http://www.gousfbulls.com/