Advanced Water Treatment Program at HCC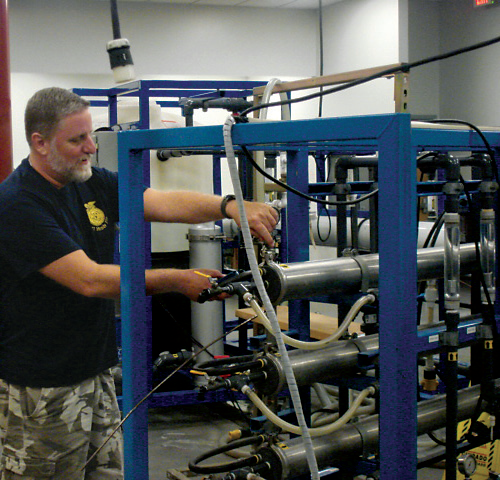 Hang on for a minute...we're trying to find some more stories you might like.
Of the many classes and programs offered at Hillsborough Community College, the Advanced Water Treatment program on the Plant City campus is one of which many students may not know.
The program takes one calendar year to complete, running from the fall semester through the next summer semester, with classes held during the evenings so students can still work during the day.
There are students who join some of the classes in the spring and summer and then continue to finish everything, so students don't have to wait until August to start.
The Advanced Water Treatment courses prepare students to work in various high demand industries such as power plants, computer chip manufacturing and pharmaceuticals, in addition to food and beverage and drinking water venues, which most people are familiar with in such a high-water usage state.
Some students decide to go into sales or service, where they can potentially make more money.
Using live reverse osmosis and ion exchange equipment, students get hands-on training in order to perform duties of operators in a variety of jobs.
Recent graduates are currently working for the city of Plant City, Siemens Water and All Florida Water. "I had no idea there were jobs in so many different fields until I started taking these classes," says current student, John Erickson.
Classes are small, usually with less than 10 people, so students receive a lot of individualized attention.
The ages of students range from 18 and recently graduated from high school to people in their 60s who are changing careers or just want to learn a new skill.
Having the chance to use actual equipment used in the field helps students gain experience with various aspects of water treatment.
This semester, the students are taking one class that teaches them to test for various contaminants in water, and another class that teaches them how to troubleshoot problems with large or small reverse osmosis machines.
There are some new innovations coming as far as reverse osmosis, so now is a good time to join the classes if you are interested in beginning a new career.
A company out of Denmark has been working with NASA to develop a new type of reverse osmosis membrane that produces more purified water.
The instructor just attended a lecture on the topic and told the class about what they should expect to see in the next few years.
Erickson says, "Just today on NPR, I heard about the new membranes that use lipids to transfer water. Our instructor just told us about them last week."
For more information, please contact the instructor directly at 813-757-2171.