Say goodbye to your childhood
September 26, 2018
The final touring version of Warped Tour ended in West Palm Beach on Aug. 5. On Aug. 4, it made its stop in the Tampa Bay area at Mid-Florida Amphitheatre.
For those who don't know, Warped Tour has been a traveling music/lifestyle/activism festival since 1995. Kevin Lyman, the founder and organizer has finally decided to pull the plug on the long-running festival. Rather than booking legacy acts, he and his company did what they always do and booked a mixture of fan-favorites and unknowns for the final outing.
The sense of community that has always been publicized was very prominent on this run.
Kaiser Solzie, a street musician from Rochester, New York, made an interesting arrangement with Lyman. He and his band played on one of the smaller stages and booked what he called Korner Stage. The stage hosted small and local bands on a few of the dates.
"The criteria is they all have to work together, and my idea of working together is we build the stage," says Solzie.
Other local bands played as well. LIMBS is a Tampa band with members who are HCC alumni that played one of the smaller stages. Their publicist, Becky Kovach, said she was very happy with how many people came to see them. Look for an upcoming feature on LIMBS.
In Hearts Wake is an Australian metalcore band that has played Warped a few times. They are unique in the way they connect with fans. Rather than just do meet and greets and signings, the band gets together with people to do marine clean-ups in five cities in Australia, Seattle and New Zealand.
Jake Taylor of the band says, "We get anywhere from five to 60 people turning up. They're our fans who hadn't done this sort of thing before, but some are people who don't know the band and are there for the clean-up. We clean as much as we can, and the funniest item gets a prize."
Taylor also talks about his experience on the tour. He says since the bands are not able to put on a huge stage production, he likes some of the bands that add comedy and fun to their shows.
Trevor Phipps, from the Boston-based band, Unearth, says the tour has been really fun. He also talks about the new album, "Extinction(s)," his band is putting out this fall.
"It's a record we're all really proud of. There are songs that are a throwback to our roots mixed with where we've grown as a band since. There are also some curve balls on the record that are a little different for us."
Near the end of their set, Senses Fail reminded the crowd this is the final Warped Tour, and said, "Say goodbye to your childhood."
Bands and fans alike were asked what bands they enjoyed. See the accompanying graphic for some of the more popular bands.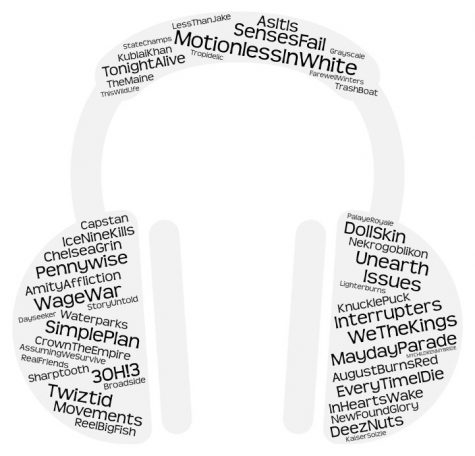 Many of the Warped Tour bands are coming back to Tampa Bay and Orlando in the coming months.
Wage War (from Ocala) will be at the Orpheum with Stick To Your Guns on Nov. 7.
Unearth returns to the Orpheum on Nov. 10.
Ice Nine Kills is opening for Atreyu at the Ritz Ybor on Nov. 17.
Orlando band Capstan will open for Silverstein and Hawthorne Heights on Nov. 23 at the Beacham in Orlando.
Every Time I Die will be at the Orpheum on Dec. 3.