Quaranteen romance
An HCC student's experience being young, in love and in quarantine.
March 29, 2020
Outside, it's warm and sunny. The wind rustles through the branches of palm trees, a sound that remains audible as cars stay parked in their driveways.
Inside a three-bedroom house in Carrollwood, sunlight peeks through the gaps of closed blinds ushering in the beginning of another day.
What was once just the sound of an alarm clock ringing has now become the drums of war; as HCC student Alec Gremer opens his eyes, the battle against boredom begins.
Mustering up all his strength, Gremer rolls out of bed, yawning loudly before entering the bathroom to brush his teeth.
He stares at himself in the mirror above the sink, splashes water in his face and contemplates brushing his hair. "What's the point," Gremer says. "I'm gonna be stuck at home all day."
He walks toward the kitchen, avoiding the clock on the stove; the less he pays attention to the time, the easier it is to distract himself.
Sifting through the pantry, he opts against eating Cinnamon Toast Crunch for the umpteen time and decides to make an omelet instead. "It isn't IHOP," Gremer mutters to himself. "It's definitely not Bob Evans."
After eating breakfast, he plops onto the couch to watch the news. President Trump calls a reporter a cutie pie. Florida coronavirus cases now exceed 4,000. The house approves a stimulus bill.
Every channel he searches, good news remains far away from his TV screen.
Guitar Center, Gremer's first job, is still closed, the remainder of his second semester at HCC will be online and he doesn't know when he'll be able to visit his girlfriend, Olivia Ables, again — the last of which stings a bit more deeply than the rest.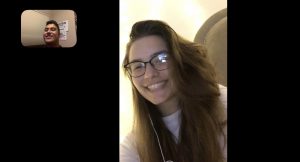 They've only been dating for a few weeks. Still, her prolonged absence leaves Gremer spiraling between bouts of heartache.
So, after his eyes have grown bloodshot from hours of playing video games, he calls her.
When he hears her soft and loving voice, the concept of time eludes him. He clings onto every last syllable that slips off Ables' tongue and the four walls that surround him fade away.
Today, like most days, Gremer couldn't win the battle alone, and thanks to her, he doesn't have to.