Local Tampa Artist, Ameena Khan, Offers a Peek Inside the Minds of Muslim Women
Ameena Y. Khan is the latest artist to showcase her newest works of art in an exhibit entitled Loud Print. Her art exhibit can be found in Gallery 3 at the HCC Dale Mabry Campus.
Khan's pieces offer insight into a problem that women of the Muslim faith face on a daily basis. Constant stereotyping and being alienated by uneducated people in society.
Khan says the wearing of a hijab throws Muslim women into the forefront of people's fright, and her exhibit here at HCC is aimed at anyone willing to listen.
As to why Khan decided to bring her art to HCC, she says, "I saw this as a great opportunity for Muslim women, and for the spread of knowledge of Muslim culture."
Khan's exhibit is one to spark thought. One of the pieces she named "Just a Peek Please" brings the viewer in, with the main message being look beyond the hijab.
This series is the bulk of the exhibit, but for good reason. To create her art pieces, Khan gathered various quotes from women; including "When I donned the hijab in 1980, covering was like a carefully placed bandage over a deep wound."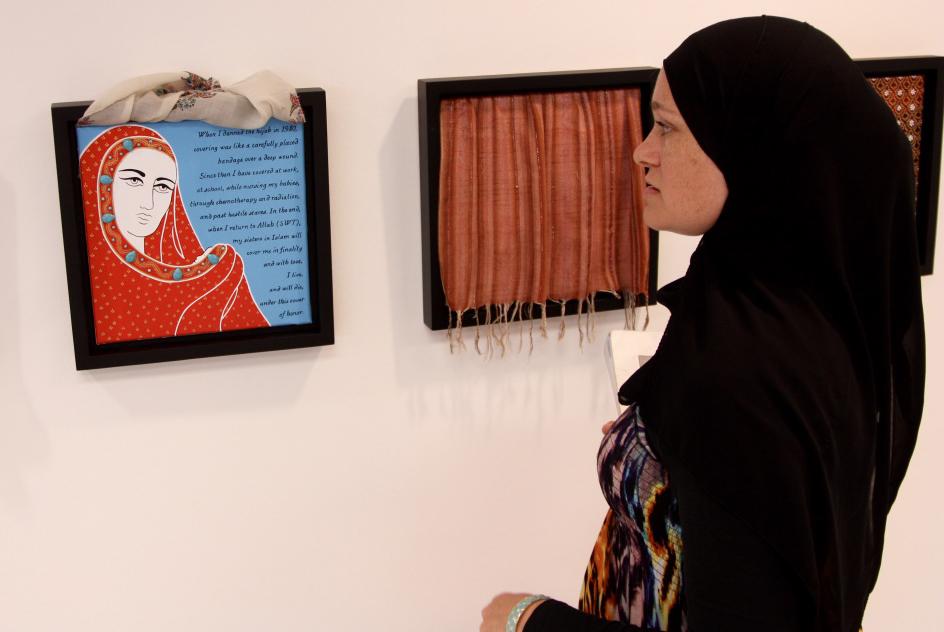 Khan then would request one of the women's scarfs, and proceed to paint an incredible image to go along with the quote, and cover the image with the woman's scarf, playing into the title of the exhibit, just a peek please. Khan started planning Loud Print about two years ago, officially starting the process in January of 2013. During that time, Khan gathered the information from the Muslim women, and was then able to start painting by March.
The exhibit is interactive. The scarfs obtained from the Muslim women have been worn by them many times, giving the art pieces that personal feeling. Khan says, "It makes it [the exhibit] interactive and meaningful coming from a Muslim woman.
Khan's complete work Loud Print truly is a conversation starter.
Placed on the third floor of the library in Gallery 3 of the HCC Dale Mabry Campus, students have the opportunity to study amongst these works of art, creating an atmosphere for intellectually passionate students to succeed.

Students and the general public have access to Loud Print until December 11, 2015. Hours of viewing are Monday-Wednesday 9am- 4pm, Thursday, 9am- 7pm, and Friday 9am- 2pm.
Khan's message that she wants students to take away from her exhibit is a life lesson:
"In general, people are people, and in the end, we shouldn't generalize and stereotype, we must look past what is right there."
This speaks loudly to the type of person Khan is, and students shouldn't miss the chance to see this great collection.