Elephant Jane takes the cake
Hang on for a minute...we're trying to find some more stories you might like.
The Elephant Jane Dance bought laughs, sadness, concentration, and silence mixed with all over the place dancing. The choreography is accompanied by musical selections including Schubert, Bowie, Nirvana, Frampton, and this year's Super Bowl headliner, Justin Timberlake.
Choreographer Heidi Henderson is from Rhode Island, and she teaches in Connecticut and has done four works. Her and three other cast mates stole the show: Sarah, Ed, and Shaun.
In the first piece, Henderson describes the number as a "totally not hipster, wannabes in the 20s…us trying to be fabulous".
Before the show started, students did a "prelude" before the dance.
Students danced in an all-white lyrical, flowy outfit. This dance was not your ordinary "normal" dance number. Dancers were each in their own world, but it came together with all the different movements each had.
One student describes the dance as "unexpected". The next move that immediately followed after the first movement was completely different. You could not guess what was going to happen next. Another student addresses their dance like a meditation. It was peaceful and you realize the impression it has in different changes of time. A calmness sweeps over you making the time go by slower. The students' movements creates something unexpected, sort of like moving art.
Henderson's solo was weird and beautiful at the same time. No music was playing making the audience focus on the way she moved and the deep breaths she took. The different movements and hand gestures she presented were warm.
"She has this amazing way of describing what you are doing,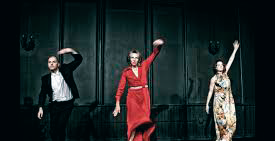 " Ed says.
The last number including Sarah, Ed, Shaun, and Henderson, and was an overall theme of fancy, formal, and goofy.
Polyester clothing decorated the stage with the shimmering of their outfits all moving in sync.
Using a pop song by Timberlake, Henderson explains that she likes to use pop music in a not so pop way.
In the number, each of the performers used a prop: socks. Each of them putting it on in a way that was humorous.
An audience member asked why the socks were such a big deal in the last number, and Henderson responded by saying it was an inside joke. She hates modern day socks. Her students would walk in to her dance class with socks and see them slipping and sliding over the floor when you are not supposed to wear socks at all.
Others asked about the name Elephant Jane. Henderson explains that about 18 years ago, her daughter got a stuffed lamb for Easter. Driving home from her parents' home, she asks her daughter what she is going to name the lamb.
Her daughter blurted out "Elephant John". Then one day while in class, students were all over the place and not really listening and upon calling them out she says "you guys need to be more like Plain Jane."
Titles don't come easily for her, so she usually takes things and puts two and two together. Hence, the name Elephant Jane.