HCC Celebrates the year of the Bird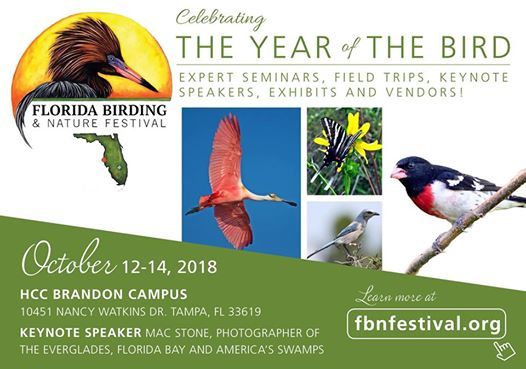 Hang on for a minute...we're trying to find some more stories you might like.
HCC Brandon Campus hosted the third annual Florida Birding and Nature Festival from Oct. 1114. This multiday event featured 37 expert seminars, 24 different field trips, keynote speakers, exhibits and vendors.
In celebration of 2018 being the "year of the bird," this festival was the perfect event for any students who have interests in the outdoors or birdwatching. Thursday, Oct. 11, the festival kicked off with the keynote speaker, Jake E. Davis, a Pulitzer prize-winning author, a Florida historian and History professor at the University of Florida.
Another keynote speaker was Mac Stone, acclaimed photographer, speaker and author from Gainesville.
Steven Kress of National Audubon spoke on Saturday about his work restoring puffins to breeding islands in Maine. He is the director of the Puffin Project.
There were also workshops on identification, natural photography, and conservation and research initiatives for birds, butterflies, dragonflies, retiles and mammals and more. Also, vendors offered nature products, artwork, binoculars, bird boxes and other products for wildlife lovers.
Some attendees also experienced central Florida's peak bird migration of over 180 species while on one of the field trips to the best wildlife sites in west central Florida led by experienced and engaging experts.
The festival was a celebration of the wonders of birds, wildlife, and natural lands that Floridians enjoy in west central Florida. This four-day festival offers workshops, keynotes, field trips and more were you can learn from renowned professionals, experience peak migration and shop unique products.