Silverstein anniversary tour not to be missed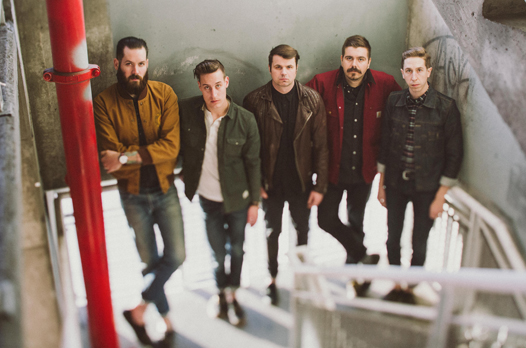 On Nov. 23, the Beacham Live is hosting a show that will most likely sell out and is not one to miss. Canadian band Silverstein is celebrating the 15th anniversary of "When Broken Is Easily Fixed" with a special tour.
What makes this tour so special? The band is playing two sets every night: one features their "When Broken Is Easily Fixed" played in its entirety, while the other set features what they call their greatest hits.
Formed in 2000 and named after famed children's book author Shel Silverstein ("A Boy Named Sue"), the band has sold over 1,000,000 albums worldwide. They have toured with a wide range of bands like Simple Plan, Blessthefall, Rise Against, Beartooth and Avril Lavigne. They are also alumni of multiple outings of the Warped Tour.
This tour is exciting for fans as well as the band itself.
"As hard as we work on pushing forward with our new music, it's fun to reminisce and I think important to give some love and respect to the music that started it all for us and the fans who have supported us since the beginning," says singer Shane Told. "We've never been a band to tear down or insult our older material, and I've always said we will always show it the respect it deserves. This tour is doing exactly that."
Told continues, "It's going to be an emotional ride for sure. But I know we'll all have smiles on our faces the whole time. It brings us back to an era of innocence and excitement, getting into our beat up van with the heat permanently stuck on, and driving all over America for the first time."
He finishes, "We're going to be able to do things, production-wise, we simply couldn't have done 15 years ago because we didn't have the budget — and in some cases the technology wasn't there yet. This is going to be the best you've seen our band — we're pulling out all the stops."
Opening the show are Hawthorne Heights, As Cities Burn and Capstan.
Orlando's Capstan is another reason this show is going to be packed. They were just on the final Warped Tour, recently signed a record deal with Fearless Records and just released "Stars Before the Sun."
"We were inspired by the Clarence Darrow quote: 'When we fully understand the brevity of life, its fleeting joys and unavoidable pains; when we accept the facts that all men and women are approaching an inevitable doom: the consciousness of it should make us more kindly and considerate of each other,'" the band says, offering insight into the new track. "It is truly a double-sided coin: life may lack objective meaning, but we can make the most of it and be happy in the incredibly short time that we have — Life fades like stars before the sun."
Capstan is a mix of pop-punk, prog and post-hardcore. They cite inspiration from bands ranging from A Day to Remember to The Wonder Years to Every Time I Die to Between the Buried and Me.
Orlando is their hometown, so the band are sure to play a great set with their friends in the audience.
This is an early show (5 p.m.), so make sure to start driving early to beat the traffic going into downtown Orlando on the holiday weekend. The Beacham is located at 46 North Orange Ave. (at E. Washington St) in Orlando. Visit www.thebeacham.com for ticket information.