Thai Temple Market
The Thai community hosts a Sunday Market at the Wat Mongkolratanaram Buddhist Temple, which is located on the banks of Palm River in Tampa. The market has been in existence since the 1990s.
Members of the Thai Temple prepare the food for the market, which includes delicious menu items such as Pad Thai and their most sought out plate, the noodle soup; a tasty broth over noodle, with your choice of either pork or beef meatballs, topped with green onions and pork slices. The spicy sauce is on the side, so you can decide the amount of spice to put into it. Being the most popular dish, the expected wait time is 30 to 40 minutes but is definitely worth the wait.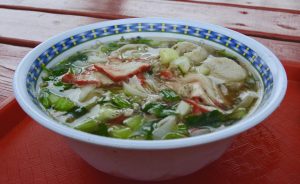 Another hot item is the fried bananas. Delicately cut and fried in oil, they come out perfectly crunchy, still soft in the center. They also offer fried sweet potatoes. A bag will run you about $5. Most of the menu consists of items under $10, reasonably priced for an abundant amount of food.
Visitors of the market are welcomed to enjoy their Thai brunch in picnic style tables, overlooking the Palm River. The area is surrounded by greenery and their very popular orchids, which are also available for purchase. There is an authentic atmosphere; guests and Temple members intermingle and enjoy all the amazing food.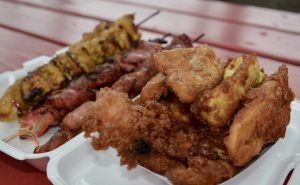 The temple is open to not only practicing Buddhists but also to market guests. The architecture of the building is stunning and intricate, with golden accents throughout the entire building, including the Buddha. Before entering, shoes must be taken off and left outside of the temple. While inside the temple, guests should not point their feet towards Buddha images or Monks. Woman must never touch a monk; they must go through a male intermediate in order to hand something to them or place the item on a table. Cellphones must be silent, as to not disturb during service. Signs are displayed to help guests understand the customs.
HCC student, Patricia Angon recently attended. She said, "It is very refreshing to experience a culture so different from your own. And for it to be so close to home, it is such a great place." She recommends the market to everyone, especially for guests to try the "Kow Neal Ping," which is sticky rice with sugar and coconut milk, wrapped in banana leaves.
Another great feature of the market is that the ingredients are listed for each food item. So, there are no surprises as to what is inside your meal.
The ideal time to visit the Thai Temple Market is before 12 p.m., as some of the food runs out after then. The market is a cash only and parking gets tricky, as many people come weekly to the market. Stick around for the service at the temple from 1 p.m. to 2p.m..
For more information on Thai etiquette and the market, visit the temple's website,
http://www.wattampainenglish.com