Hyro the Hero disrupts mainstream rap
Hyro the Hero says you should rock with him and his band because they have an "extreme, dope message about waking up the people." At Welcome to Rockville, he and his band spoke with the Hawkeye about themselves and what is coming next for them.
Hyro the Hero is a rapper backed by a rock band that prides himself in being different and not using auto-tune. The music has been referred to as the most punk rock rap and the most hip-hop punk.  His "Never Back Down" video portrays a rapper being told what to do. Hyro rebels against this and other trends.
"Sometimes I sit back and think, I could make a dumb song about the club and a party and maybe it might go big, but I wouldn't feel right with myself if I don't a have a message."
There is humility to Hyro the Hero that seems rare in the rap world. During interviews, he brings his band and encourages them to talk. They have fun with their answers by saying their influences include acts like Hilary Duff, Lindsay Lohan, Sheryl Crow and Nickelback. Hyro does admit that he likes Nickelback as a mainstream rock band.
Hyro also listens to At the Drive-In, Fishbone, Bad Brains, King's X, 2Pac, 50 Cent and Eminem. This variety of influences is what enables Hyro the Hero to tour with artists ranging from Wu-TangClan to Mindless Self Indulgence.
On June 26, Hyro the Hero will be part of the Disrupt Festival when it comes to Tampa.
The band says it's all about the live show and they put everything in it. "We all put our heart into it, so every time we hit the stage, you're going to feel real deal energy, real heart and real motivation."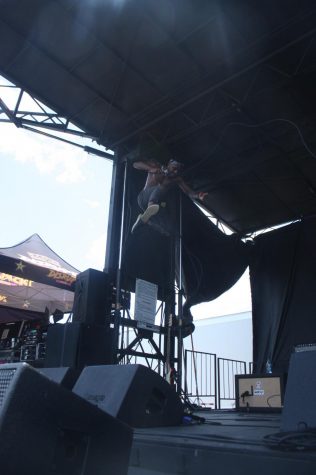 If the show is anything like the one at Rockville, expect to see Hyro the Hero jumping off speakers and engaging the crowd. Everyone else in the band is constantly on the move as well.
"I want to show people an amazing show that they'll talk about forever."
The band members say you should come to the Disrupt festival because "are going to be off the chain and we can't wait."
In closing, Hyro says to "stay motivated, keep your head up, always keep grinding and study hard and do your thing."
Get your tickets at https://rockstardisrupt.com/ and make sure to catch Hyro the Hero.