Bask in the sun with III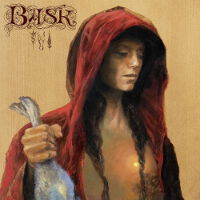 On their website, Bask says they "are four musicians based in Asheville, North Carolina, who love making music." They have been described as having sludge rock blended with Americana, progressive rock and psychedelic elements that give them a unique and hard-to-define overall sound. Their new album, III, was just released on Season of Mist Records.
Scott Middleton, Bask's drummer, talked with the band.
Ray Worth (guitar) and Middleton met in 2011. They hit it off and began writing what would be a good chunk of their first album, "American Hollow." In the fall of 2013, Jesse Van Note and Zeb Camp joined on bass and guitar/lead vocals, respectively. Bask played their first show that December.
"
I've had some of the most memorable and transcendent moments of my life playing music
— Scott Middleton
Bask includes North Carolina's state motto, "To be, rather than to seem," in their bio. Middleton says, "It seems like a good philosophy in general to me- to always strive to be authentic and create music in such a way. It's so easy to 'seem' in our hyper information age, but to aim to be as genuine as possible is the goal."
When it comes to songwriting, the members of Bask work together. They often start with a guitar riff and see how it feels best. The new album, "III," has a cohesive feel to it, but the songs do not all sound alike.
Middleton said that it was a conscious effort to approach songs differently while still connecting as a full album. They relied on their guitar tones, drum sound and vocal style as well as lyrical content to come together for the album as a whole while serving each song individually.
He went on to say, "much of the album's lyrical content is exploring folklore through perspectives that weren't thought of the first time through. We do our best to stay conscious of the overall energy and contrasts when writing a batch of new songs. Each song is inspired by a piece of legend, mythology or folklore from various times and places, lending a perspective to those that were often overlooked in the original telling."
In the time leading up to writing and recording "III," Middleton has been listening to an experimental band named Bitchin Bajas a lot. "Their collaborative album 'Epic Jammers and Fortunate Little Ditties' with Bonnie Prince Billy was the first music of theirs to draw me in, and I was listening to this album a ton when we recorded 'III,' he said. "It's very ambient and has a really positive vibe."
Middleton has also been listening to "Fear Inoculum" by Tool, "The Brilliant Tabernacle" by Mamiffer, "Juice B Crypts" by Battles, "The Afterlife" by The Comet is Coming and is very excited to have recently discovered Saariselka.
Middleton loves playing music and being in the band, "I've had some of the most memorable and transcendent moments of my life playing music, it's what is constantly being chased. That feeling is pretty indescribable."
Bask has been touring the east coast and Canada "III" came out. They have plans for a late winter/early spring tour that Middleton hopes will include Tampa. In the meantime, listen to their full album on all platforms.