Get to know Gold, Frankincense, & Myrrh
Gold, Frankincense, & Myrrh, also known as GFM, are three sisters from Jacksonville who play rock and roll. C.J. plays guitar, Maggie plays bass and Lulu plays drums. They all sing, but C.J. and Maggie handle the majority of the vocals. Their music is heavy with shock value that they play up by wearing cheerleading uniforms on stage. They refer to their music as "beautycore." The term has even made it into Urban Dictionary.
About beautycore, the band says, "It's a genre that we created as a joke. We're metalcore and rock and girls mixed together; it's beautycore."
Their fans, which they call Team GFM, love the genre and embrace it as part of themselves. The fans are just as much a part of the band as the three members. Some buy every shirt and travel long distances to see the band. GFM decided to call their fans Team GFM because they feel everyone is part of a team that works together.
They say, "Everyone is a part of Team GFM, and this team plans on winning every single game."
One way the band members bond with their team is with cupcakes. Last year at the Metal in the Mountains festival in West Virginia, GFM played on C.J.'s birthday. She wanted to throw a sheet cake into the crowd but decided on cupcakes so they wouldn't get in as much trouble. People loved it, so GFM continued throughout the tour. At some shows, fans smeared the frosting on themselves and called themselves "cupcake war survivors."
Lulu said, "If that doesn't show you what a GFM concert is, I don't know what will."
GFM has also done something unique with their fans. This summer, they co-wrote a song called "Susan" with their fans using SONGLINKR. "Susan" is a parody song where Maggie portrays a skateboarder named Derek whose girlfriend is Susan. Fans were able to upload lyrics to go along with what GFM already had. The band made up parts of the song in one of their comedy videos, and fans begged for an actual song. They filmed the video themselves, which is something they want to do more with future song videos.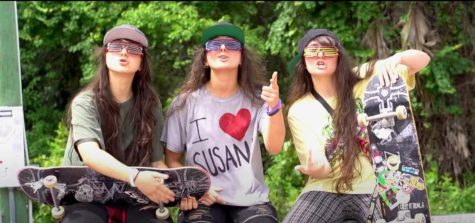 Normally, the 13th of every month is GFM streaming day, where fans stream the music. However, with the recent release of the "Operation Take Over," e.p., fans said they would stream the songs every day.
"Operation Take Over" has six songs and was released on September 4. The band says it is something that everyone wanted.
"We wanted to have this album of absolute strength and empowerment and finding that place of confidence and understanding that there are weaknesses that you have to work on but letting that become your strength instead of letting it tear you down."
The song "Taking Over" was written for their fans to get involved at live shows and to remind them that "this is a team, that we're taking over the world together and that we're stronger together. If somebody falls, we're going to be there to pick them back up."
"I Don't Need Your Fantasy," says that people can be themselves and not be forced into stereotypes. It's about self-confidence and awareness.
The sisters want to share their positivity through their music. They say that while they are Christian and share what they believe, they are fine with all kinds of fans. They want to have positive music for people to listen to. They say that if people come away from their music feeling better and have the strength to overcome what they are struggling with, the band has fulfilled its goals. They share their own struggles with the listeners to show people they are not alone and get through whatever.
GFM works hard to get their message and songs out to the world. They understand the importance of writing songs that will touch people and that they need to be involved with all aspects of promotion. They integrate their image with the songs to make it attractive to look at and listen to. They are constantly improving their website and social media outlets. They make comedy videos for YouTube. They interact personally with fans in person and over the internet. They set up a Patreon as a "V.I.P" for their fans to get monthly packages in the mail. All are connected on their website, www.thegfmband.com.
To listen to the entire interview, to to the Jatstuff channel on Youtube.