Touring Tampa on Wheels
Segway's are kicking off as the new way to tour the streets of Ybor.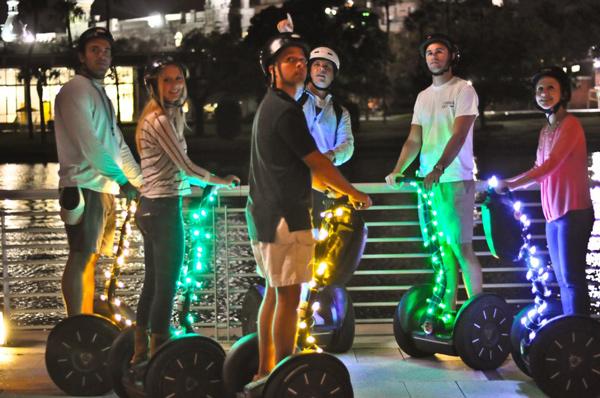 Believe it or not, the future of tourism is here and it has arrived on Segway transportation machines. If you attend the Ybor City Campus or have been around Downtown Tampa, then you may have noticed groups of people from all age groups strolling around in Segway machines in a single file line.
The Segway tours are becoming the new hip activity to do with family and friends. There are two different business that provide Segway tours. The one at Ybor City is Electric Glide and the one over at Channelside is Magic Carpet Glide.
Both businesses provide tours daily and anyone can call or go online to book an appointments and purchase tickets.
The Electric Glide is perfect for students looking to do something around campus especially during those dreading long breaks between classes. Electric Glide tours are usually two hours long; tour begins at the Centennial Park located at 1800 E 8th Ave. Tampa.
Street parking is available or customers can purchase all-day parking with the tour tickets.
Electric Glide will provide a historical expedition through city. The tour guide will speak about the history of the town while stopping in local cigar shops and other local businesses and parks.
If you are interested to get out of the Ybor area, The Magic Carpet Glide might be the one for you. Magic Carpet Glide takes a tour in the Downtown area throughout the Amalie Arena, Tampa Riverwalk, University of Tampa and the Curtis Hixon Park among other areas.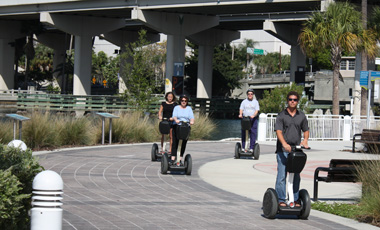 The tour starts at the Channelside Bay Plaza at 615 Channelside Dr, Tampa. The Magic Carpet Glide also provides a fun twist to the tour by adding glow in the dark Segways to their night tours.
When students were asked about their thoughts on Segway tours, many seemed intrigued by the new transportation activity claiming it to be "interesting" and "worth a shot." Lane Furey, comments on Magic Carpet Glide "This was one of the funnest things I've done in a long, long time and I'm from Tampa!"
The Segway transporter travel at a speed of 5 mph and helmets are required for safety purposes. Touring on wheels seems like an activity to keep in mind especially with spring break roaming around the corner.
It is an activity that can be fun for a big group of family and friends, and can be a creative way to have a date with a significant other.
Both tours give an opportunity to experience the towns in a different light.
For more information about the tour and prices, visit electricglidetours.com and magiccarpetglide.com and join in on the fun that is the future of tourism and a great way to see Tampa's past.