Fun and funnel cakes at the State Fair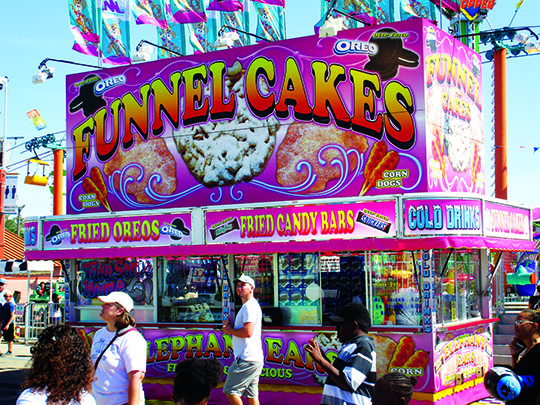 The Florida State Fair celebrated its annual cel­ebration this February. Above all else, the bizarre foods offered at the festival seem to be the mind blow­ing attraction that enlight­ens the taste pallets of chil­dren and adults alike.
Whether it's deep-fried or served on a stick, the food vendors tirelessly test new recipes to serve each year at the Florida State Fair.
To appease the grow­ing appetite of Florida na­tives that attend the fair, anything that can be deep-fried is. Fried Oreos, are often the leading fan fa­vorite as they get a boost in taste, flavor, satisfaction and calories.
Joining the deep-fried Oreos are peanut butter cups, cookie dough, Klon­dike bars, Snickers, and Twinkies.
One vendor, Everything Gator, offers a menu boast­ing recipes incorporating alligator meat into it. Gator sausage, burgers, and gum­bo draws a large crowd to their shack. Sweet Chee­sus, another vendor, deals with offering customers a wide variety of food deal­ing with cheese.
One delicious and ap­pealing fair treat that has risen in popularity over the past few years is the fun­nel cake. The snack is fried dough with powdered sug­ar sprinkled on top of it.
It has now turned the fair food sales into a cre­ative competition with vendors attempting to make the funnel cake an even more delectable treat. Across the fairgrounds, the varieties included maple bacon, birthday cake, red velvet, Reese's peanut but­ter fudge, and turtle funnel cakes.
Just as you enter the fair you find, "The Best Around's," concession stand. Janes Harris, known as "Mama Jane," was been in the industry for over 30 years and has been serving Floridians at the fair for 15 years.
"Red Velvet was the game changer," Mama Jane said, referring to the industry spark in creating new types of funnel cakes.
When asked what her most popular selling food was, Harris, replied with a grin, "Cheesy Fried enchi­lada." It is made with fried tortilla cake, white queso, and chorizo, so it is not as much of a desert as other funnel cakes and more of an entree.
The enchilada fun­nel cake won the award fan fair favorite for No. 1 food to try. "Sometimes we sell four to five at a time," Mama Jane went on to ex­plained the large amount of food her company sells. As she was speaking, she was interrupted by a cus­tomer. "I've been looking over two hours for you!" Bob, an avid fairgoer ex­claimed as he walked up to the food trailer. He saw Mama Jane's new funnel cake and food award story on channel 13 news.
While working the fair and other large event cir­cuits, Mama Jane has fed many stars. Her favorites include country singers Craig Morgan, Sarah Ev­ans and Cole Swindell.
Swindell actually re­quested that she notify him if she was selling food at any of the venues he was playing. She also said Mor­gan normally doesn't like fair food, but loved her ba­con maple funnel cake.
Although she was very warm, inviting and open, Mama Jane made it clear there would be no leaks on what she has planned for next year's state fair. "Peo­ple will try to copy it!" she exclaimed.
So, when you are at the fair, give a new fair food a try. You won't be disap­pointed.