Making art from pain
Some say the best art comes from painful experiences. If one were to watch many of the films screened at Sundance Film Festival 2018, one would believe the current filmmakers have taken this advice to heart.
Films of all types and lengths are shown at Sundance. This year, a common theme in multiple genres was pain and heartache.
One of the short student films, "Safe Haven" by Amri Rigby, tells the story of a self-harming high-school girl who wants to escape by going away to college. She waits everyday for an acceptance letter to arrive. When it does, her mother finds it first and throws it away. The girl finds the letter and confronts her mother, only to be told she is not ready.
Two other short films that portray pain are "Blue Christmas" and "Mud." "Blue Christmas" tells the story of a debt collector in Scotland who chooses to go to work on Christmas Eve to avoid his wife suffering from psychosis. He is forced to repossess a family's television before coming home to his wife trying to set the house on fire. "Mud" is about an elderly Navajo woman who suffers from alcoholism and the affects that has on her grandson and other people in the community. The film begins with her grandson being forced to ask her to leave the restaurant in which he works and then follows her day facing the disdain of other people in town. Shaandiin Tome, the writer/director, says she wanted to make a film that shows the realistic struggles of her people and how they affect more than just the people struggling.
Tome says, "The process of making this film was a very personal and somewhat hard journey, but it was worth it."
She says that she wanted to make a film that went past the stereotypes of Native Americans and show the personal side of what life is like for many people.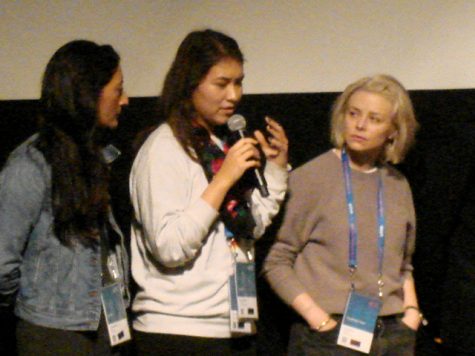 Short documentaries also explored darker aspects of people's lives. One of the old men in "The Trader" says he always wanted to go to school but could not and that he would leave his village in the country of Georgia if he could. In "Symphony of a Sad Sea," the main character says he wants a "whale to eat [him] and spit [him] out in the United States." His name is Hugo, and he is a boy in Tijuana whose brother had recently been killed and whose father left for the United States when Hugo was 2 years old.
Full-length movies with famous directors and actors also focus on painful events. Ethan Hawke made a movie called "Blaze," which is about real-life country music singer/songwriter Blaze Foley. The film focuses on many of Foley's struggles and ends with his murder in 1989. "Nancy," featuring Steve Buscemi, is about an unhappy woman who watches a report of a girl who had been missing for 30 years and calls the family saying she is the missing daughter. After one of the screenings, Christina Choe said she had a college writing instructor who was an imposter and wrote "Nancy" what could have happened with someone like that. About the writing process, she references the quote, "What breaks your heart mends your heart."
Many films shown at Sundance get bought by larger companies and are then distributed throughout the world. HBO Films bought the rights to a full-length documentary called "The Sentence." Rudy Valdez made the movie about his sister, Cindy Shank, who was charged and convicted of a six-year-old crime after she had changed her life and started a family. The film focuses on nine years of her children's, husband's, siblings' and parents' lives while she is in prison.
Valdez says that standing behind the camera and making the film "allowed [him] to cope with a lot of the things that [he's] seen."
Valdez says he wanted to make the movie without talking about what his sister was experiencing in prison. Rather, he wants to show other lives that are hurt by crimes by showing the family members who, although they are free, still have their lives disrupted by prison.
People can find all kinds of movies. Many independent filmmakers try to make films that mean something personal to them and Sundance Film Festival is a venue to show off their work. Many current filmmakers see there is pain in life, but also want to show that people can rise above it.