The guardian of the hawks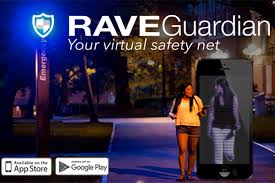 Have you ever felt nervous or scared? Have you been on campus and saw a dangerous situation but didn't know what to do? Have you ever wondered how to reach campus security quickly? Now there is an app for that.
Hawk Guardian is an app for Android and iPhone devices available to all students, staff and faculty of HCC. It is part of "Rave Guardian" and has some HCC-exclusive features.
The app has what are known as guardians.  According to the Hawk Guardian literature, "A Guardian is someone you trust to be notified of your status and location."  There are two types: "Guardians you invite" and "default Guardians". When using an HCC email address, the Department of Public Safety (HCC Security) becomes a default Guardian and a direct resource on the device. The "Guardians you invite are friends, family members or other people you trust to look out for you."
Bonnie Nimmo, the SGA Advisor on the Plant City campus, explains how the Guardians are used. "Say you have a night class and you're walking to your car. You can set the timer that says it should take ten minutes to walk from here to there. It will warn you if you're getting closer and then if you don't set your PIN, it beeps to your Guardians."
Using the Guardian app, you will not be as alone, in that people will be alerted if you take longer than you should to arrive at your destination. Nimmo points out that the app can be used anywhere, such as at malls, restaurants or nightclubs.
The app is designed to replace the blue emergency poles on campus. Nimmo says most of the blue poles no longer work due to costs to maintain them. Also, she says, they are only on campus in a few locations; whereas Hawk Guardian is everywhere people have their phones.
People can use Hawk Guardian for more than just a basic safety tool. There is a function where people can send tips if they see something suspicious as well. Nimmo says if someone sees someone getting physically or verbally abused, he or she can send an anonymous tip to security with pictures and location. One can also use it to call security to open a door on campus if needed. Some of the tips available include accident, bullying, mental health, repair needed, school policy violation and theft.
Nimmo says, "I think the one big thing is not a lot of people know about it."
She has been educating people on the Plant City campus and has made a packet with the information on how to set up and use Hawk Guardian. To get the packet, go to the Hawk's Nest or email Nimmo directly at bnimmo3@hccfl.edu. She says there should be information on all the campuses through the Department of Public Safety, but does not know how detailed any of it is or where exactly it would be located.