Hot Tampa coffee (shops)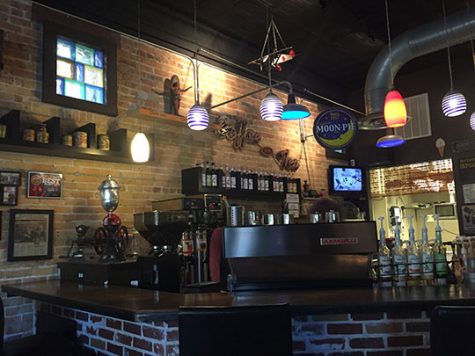 Tampa, Florida has always been the place for all coffee enthusiasts, ranging from the early morning cup of joe drinkers, to those who prefer a sweeter taste in the delectable specialty coffee drinks most shops offer. Some that will even keep you up late enough in the evening to see the iconic Tampa Skyscrapers light up the night.
More recently, Tampa and its surrounding areas have become more populated with little coffee shops that make a big impact on their customers. With an increasing amount of coffee shops popping up, does the beloved Starbucks Coffee still stand a chance?
Starbucks has been ahead in the coffee industry for so long, so little pop up coffee shops must pull all of the tricks out of their sleeve to make a loyal Starbucks customer shift to a new and improved coffee drinking routine.
Foundation Coffee has been taking the Tampa Bay area by storm. They began in Riverview with their first location, and due to their overwhelming success, the now have a second Foundation location in Tampa Heights. The Riverview location offers a relaxed and calm environment, as they are an outdoor location, which takes advantage of every sunny day Florida has to offer. The Tampa Heights location offers an elegant and creative mood, where the indie décor inside leads to an outdoor patio where an abundance of homey decorations and lights make it easy to want to come back.
Caffeine Coffee is a bit smaller, in terms of location size, to other coffee shops, yet they pack a big punch. They are located in the heart downtown Tampa, a short walk from the favorite Tampa Riverwalk and Curtis Hixon Park. The inside oozes with charm and class, the perfect balance that brings back many regular customers. Caffeine provides the basic cappuccino, espresso and coffee, but they often switch things up a bit with different flavor. A unique drink they off is the Orange cold brew, unique with its tangy and satisfying flavor and topped with real orange slices. This location has since had a lot of success since it opened that they now have a sister Caffeine store, located on West Kennedy, that offers a drive through, a wider lunch menu and charming décor that have the character to make you feel like you are at home.
A little farther from Tampa, is Krazy Kup, a unique shop with a laid-back atmosphere, located in Plant City. This makes it a must stop shop to grab a cup of coffee and catch up with friends or on work. This shop is two stories, with the café area on the first floor and a concert area on the second floor. There are concerts there most Friday nights from either a local band or singer, or just an open-mic for the community. They also have an outdoor alley-way space, spread with tables and chairs. With strings of glistening lights hanging up above, Krazy Kup proves its undeniable charm.
With coffee shops proving supplementary to the Tampa bay area, many wonder if Starbucks Coffee still stands a chance. People always want the next best thing, and that's just what these not-so-little coffee shops prove they have in store.
Either Foundation locations, Caffeine locations and Krazy Kup, all offer the perfect aesthetic when it comes to trying new places. Every Tampa and Plant City local should know, and love, these hometown hotspots. If you haven't been to yet, add these shops to your Tampa tourist bucket list. You can be certain that with a visit to these up and coming cafes, you will have a great cup of coffee, and the want to come back for more.
Foundation Riverview : 10020 Carr Rd, Riverview, Fl  33569
Foundation Tampa Heights: 1607 North Franklin St, Tampa, Fl 33602
Caffeine Coffee: 212 E Cass St. Tampa, FL 33602
2420 W. Kennedy Tampa, FL 33609
Krazy Kup: 101 E J Arden Mays Blvd, Plant City, Fl 33563