Angelas's story from HCC to NSF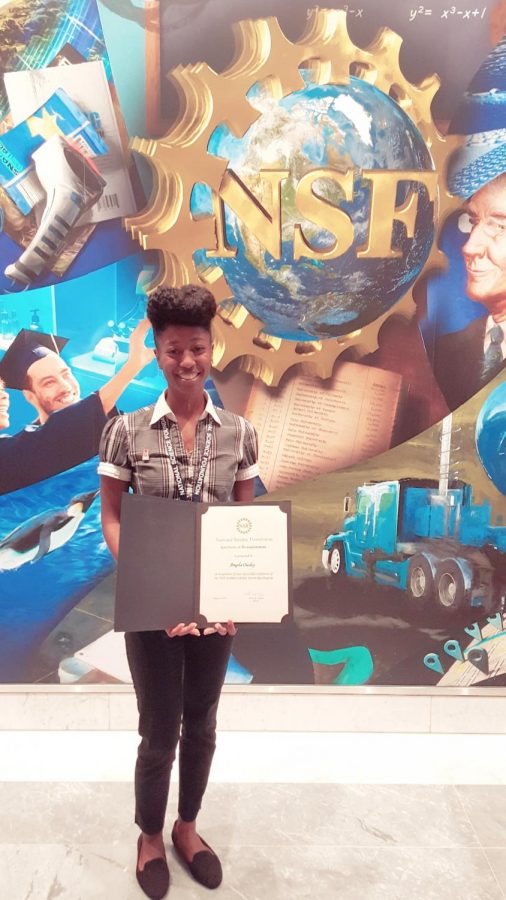 I wasn't sure about my career path before attending HCC, but building relationships with my professors and attending networking events outside of class helped me learn about different majors and career options.
One day while taking a class with Dr. Margaret Hopson-Fernandes, she informed me about the Science Seminar Series at Dale Mabry's campus. I'm glad I attended the day Professor Johana Meléndez presented her seminar because she gave out numerous resources for internship opportunities available to HCC students, and shared her experience as a United States Department of Agriculture (USDA) fellow.
They encouraged me to apply to the Hispanic Association of Colleges and Universities (HACU) National Internship Program. I applied and was offered the paid internship opportunity for the summer of 2018!
It was a very exciting time. I was assigned to work at the National Science Foundation (NSF) Alexandria, VA, under the geology division.
The Hispanic Association of Colleges and Universities (HACU) has internship opportunities for all HCC students from many different majors and disciplines. HCC and HACU have enriched my life and has helped me launch my career as an Environmental Scientist.
Without these two HCC professors, and without the time commitment to attend that seminar, I would not have gotten the opportunity to become a Summer Scholar Intern at the National Science Foundation (NSF). I would have never learned more about my passions and career path that I finally found.
My summer internship experience gave me mentorship and further solidified that I wanted to work in the Environmental Science field.
My advice to fellow students:
Utilize your resources
The Career Resource Center is great at assisting students with seeking internships and jobs. They can also guide you with planning your academic path or assist you in figuring out a career that suits you.
If you're interested in STEM, check out the STEM Transfer Center and get assistance with choosing a major or setting up a tour to visit a school you would like to transfer to in the future.
Network
Joining a campus organization is a great way to build your resume and collaborate with students. Joining a professional organization allows you to speak with people working in a field you are passionate about or majoring in.
Talk to your teachers, they will share the opportunities they learn about if they know you're interested.
Talk to your classmates, ask how they landed an internship and get to know their experience.
Apply to internships early
Give your teachers/employers time to write your recommendation letters.
Prepare an essay that will allow you to stand out from other students.