Right in our backyard

Lettuce Lake Park, conve­niently located just a mere 10 minutes from the Uni­versity of South Florida just off of Fletcher Ave, had so much to offer. Lettuce Lake Park was opened in 1982 and is operated by Hills­borough County Parks. It is open to everyone for a $2 entrance fee per car up to 8 people and a $1 for every additional person. The park acts as a natural floodplain for the Hillsborough River. It also provides a natural storage reservoir for flood­water and helps improve water quality while acting as a biological filter. This 240-acre park is home to over 300 organisms and plants that are essential to the environment.
Along with the 300 spe­cies, you can find hikers, bicyclists, and picnickers in the park. Di­rectly behind the visitors, center you can find a board­walk that offers 3,500 ft of exploration which brings you face to face with the thick woods and swamp area. While walking it, you'll routinely see egrets, herons, turtles, squirrels, ibises, hawks, and alliga­tors. Yes, I said Alligators! Lettuce Lake Park is home to many alligators, especial­ly the American Alligator that can grow up to 11 feet long.
If you slow down and take your time walking the boardwalk, you can spot a lot more birds than anything else. Leave your phone in the car, you will not need it. Take mental pictures and enjoy the silence and noise of the animals in your own backyard.
Walking along the board­walk, you can find a three-level observation tower that is at least 40 feet high. Meeting with Mr. and Mrs. Jones, Mrs. Jones said, "We try to make it out here at least once a week. We paid for the $50 yearly pass. We find this place to be so tranquil. My husband and I can sit up here for hours with our binoculars and just watch."
The park also offers ca­noe trips along the Hills­borough river for $25. You can choose from a single or double kayak or canoes for 4 hours. Taking these canoe rides give you a closer look, spotting bird, turtles, and alligators. When you pay for your park admission, let them know that you want to take the canoe out for a spin as well and they will give you a key to unlock the ca­noe or kayaks. Make sure not to fall in, remember the alligators mentioned earlier.
You can never go wrong visiting Lettuce Lake Park, there is a lot to do. Between the grilling areas, play­grounds, boardwalk, nature trails, paved trails, and even bicycle trails. The park is fun for all ages, but make sure if you bring your furry friend, they are some areas they are restricted. Bring cash, your friends, and leave your phones in the car to en­joy the escape from reality in our own backyard.
About the Writer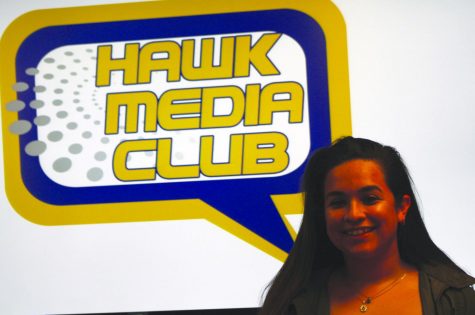 Kaitlyn Narvaez, Staff Writer
Kaitlyn Narvaez is a Staff Writer for The Hawkeye

Kaitlyn Narvaez, 21, is originally from New York but relocated Tampa nine years ago. Narvaez graduated...