Why did the chicken cross the road?
You've seen them on your way to school, strutting across the street with a puffed chest and a cocky attitude.
They're unrestrained, oftentimes reckless and almost always vocal. One was accused of destroying property, a few have been caught engaging in "romantic frenzies" out in the open.
Their history of delinquent behavior has led most of their neighbors to go so far as to label them pests. Still, others retain the belief that they're a staple of our historic community.
But whether you like them or not, one thing is for certain: while some places are known for their breathtaking landscape and others for their distinct cuisine, Ybor City is known for its chickens.
The chickens are the descendants of the earliest residents' livestock and are protected by a law that declares Tampa a sanctuary for all birds. Over 100 years later they still live in the neighborhood, amusing tourists and cawing their way into the hearts of citizens.
As absurd as it sounds, the feral chicken population is integral to the city's culture. Their presence has inspired an annual New Orleans-styled parade, which honors the death of a beloved chicken by the name of James E. Rooster. At one point they even managed to draw attention from the likes of ABC Action News and The New York Times.
Despite this, their residency in Ybor has ruffled the feathers of a few members of the community for decades now.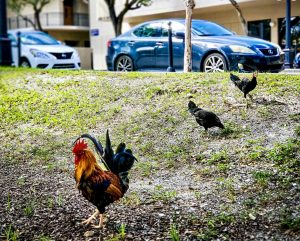 In 2017, Dylan Bresse rose to their defense by establishing the Ybor Chicken Society. An organization that, according to their website, aims to "preserve harmony between Ybor's business and chickens." Breese's movement was able to get more than 2,000 signatures for a petition that aimed to keep the chickens included under the city ordinance.
A topic that has been the subject of numerous political debacles, with many believing the birds no longer warrant special protection. The debate eventually made it to the city council in 2018, where it was ultimately decided not to remove their rights.
The city's decision came as a victory to some and an annoyance to others.
About the differing views of the chickens that endure, Ybor City Online wrote, "If you live in Ybor City, you can't dislike the chickens, because like it or not they have been there longer than you."
Ybor City has recently unveiled a vision plan for the neighborhood in 2020, which provides a road map for the historic district's future. While it appears that in the next few years there will certainly be some changes to the city, our feathered-friends will remain with us for the ride.