Dick Gregory comes to Tampa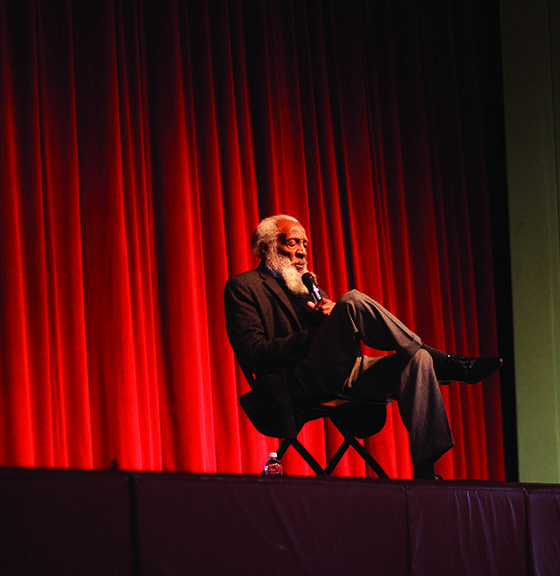 On Wednesday Jan. 20, 2016, Dick Gregory spoke at the University Area Community Development Center. Gregory is a renowned civil rights leader, social activist, writer and comedian.
Gregory spoke on behalf of The Tampa Bay Black Heritage Festival's leadership luncheon.
He has the ability to conjure up a comical act on many political and social issues in the United States. Gregory is able to hold the audience's attention with interesting and vital information.
As the crowd took their seats at the luncheon, the master of ceremony welcomed everyone.
Lunch was served buffet style. As the guest went up to get their food, a musician played jazz music on his saxophone to set the atmosphere for Gregory's speech.
As the guest ate and got acquainted with one another, the master of ceremony welcomed Dr. Samuel Lamar Wright Senior.
Wright founded the Tampa Bay Black Heritage Festival, and this is the 16th year of the festival and its weeklong of events.
Wright is an honor graduate of the University of Florida where he studied Psychology. Wright gave a testimony on the festival and all of the obstacles that it took to be successful.
In Wright's speech he quote Dr. Martin Luther King Jr. "If you can't fly then run, if you can't run then walk, if you can't walk then crawl, but whatever you do you have to keep moving forward."
Wright believes that King's quote should be looked out during hard times and life's obstacles. After Wright finished his speech, he welcomed and introduced Dick Gregory.
Gregory greeted the guest and he did not hesitate to fill the room with laughter. Gregory spoke on various vexing topics from the Flint, Michigan, crisis to homemade drugs.
He also spoke on various racial and historic topics. "People are very powerful. Many do not believe it because it is not taught on a regular basis."
Gregory wants everyone to be a leader, no matter what the "leaders" of today may say.
Gregory also spoke to the youth about homemade drugs. "Every one of you need to be aware of these playground drugs. Do not ever think that you have to do something because someone else or your friend is doing it. The best thing you could ever do is walk away."
Dick Gregory spoke extensively on the value on leadership with a twist of comedy that all could enjoy.