Florida elections – Know your vote
Those over the age of 18 and registered to vote in Florida are eligible to cast their ballots in the midterm election for state and local government. Not only will Floridians be choosing the new Governor but also on the ballot are several highly contestable amendments that could have a major impact for its citizens. Florida's general elections are only held every even-numbered year. On Nov. 6, polling hours are from 7 a.m. to 7 p.m.
The governor's race between conservative Republican Ron DeSantis, a Donald Trump-supported candidate, and the Tallahassee mayor, liberal Democrat Andrew Gillum, has become an example of polarized politics in America.
DeSantis is a 40-year-old, former U.S. congressman who resigned in 2018 to run for governor. DeSantis graduated from Yale and Harvard. Gillum is the 39-year-old mayor of Tallahassee, who has been in office since 2014. He is a graduate of FAMU and is endorsed by Senator Bernie Sanders.
Also on the ballot is Republican Governor Rick Scott, 65, challenging incumbent Democrat Bill Nelson, 76, for the U.S. Senate. Scott has served two terms as Florida's governor since 2010. Nelson, a longtime member of the House of Representatives, has served as a senator for three terms.
The Florida race for Attorney General is between Republican Ashley Moody, 43, who was elected Hillsborough County circuit judge twice since 2006. Her campaign has been based on her experience in law enforcement, stating that "it makes her qualified for the job." Democrat Sean Shaw, 40, was elected to the state house in 2016 and was appointed as state insurance consumer advocate by Alex Sink. He promises that as attorney general "he will investigate President Trump's business practices in Florida."
In the race for Chief Financial Officer is the incumbent Republican Jimmy Patronis, 46. Patronis graduated from Florida State University, and currently works for Gov. Rick Scott. His opponent, Democrat Jeremy Ring, 48, is from Boston. He has served for 8 years in the Florida Senate as chair of the Oversight Committee.
For Commissioner of Agriculture, there's Republican Matt Caldwell, 37, who has served in the Florida House since 2010, and while in office he sponsored bills to further support and permanently fund the restoration of the Everglades. He is endorsed by the National Rifle Association. Democrat Nicole Fried, 40, has been an advocate for increasing access to medical marijuana and has worked to ensure the passage of a bill in 2014 to grant millions for disabled children to have access to lawyers.
Locally, the District 10 Florida State Senate race is between Republican incumbent Wilton Simpson and Democrat Michael Cottrell. Simpson has served on the Florida Senate since 2012, and he is one of the Senate's wealthiest members. Cottrell is a teacher who has worked in Hernando County schools as well as for Department of Defense schools.
In the election for Hillsborough County Sheriff, there's Republican Chad Chronister, 50, who began his law enforcement career in 1992, as a patrol deputy. Most recently, he served as a colonel overseeing the agency's Department of Operational Support and is the current interim Sheriff. His opponent, also 50, is Democrat Gary Pruitt. He has spent 25 years with the Tampa Bay Police department but is now retired.
In addition to local and state elections, there are 12 amendments to the state constitution. The amendments are complicated and some are bundled to allow more than one issue for each vote.
Amendment 1 would "allow homeowners to deduct up to another $25,000 from the taxable value of a home worth more than $100,000." Those opposed to Amendment 1, believe "it would cost Florida's cities, counties and other taxing authorities an estimated $687.5 million annually."
Amendment 2 would "make permanent what currently is a temporary cap of 10 percent on annual property value increases for vacation homes, apartments, and commercial property." Opposition to Amendment 2 feels it would "continue to deny local authorities tax revenue they would otherwise collect from rising property values."
Amendment 3 "requires the approval of any new casino gambling through a citizen-initiative constitutional amendment effectively barring the Legislature from making those gambling decisions by passing laws." Disney supports the amendment.
Amendment 4, "would restore the eligibility to vote to persons with felony convictions who have completed their sentences." Florida is one of only four states that permanently bars felons from voting.
Amendment 5 would "require a two-thirds vote of the Legislature to approve any new or increased taxes or fees, rather than a simple majority." The opposition states the amendment does not "allow for tax increases in times of emergencies."
Amendment 6 would "Vastly expands the scope of victims' rights under the state Constitution." Opponents contend victims' rights should not interfere with the constitutional rights of the accused.
Amendment 7 would create a "supermajority requirement for universities to impose new or increase existing student fees."
Amendment 8 has been removed from the ballot for wording issues.
Amendment 9 "prohibits oil drilling beneath waters controlled by Florida; prohibits the use of e-cigarettes, also known as vaping, at indoor workplaces." Supporters cite the "Concern for the environment overrides the concern about putting vaping in [the] constitution."
Amendment 10 "forces all counties to elect a sheriff, tax collector, property appraiser, supervisor of elections ad Clerk of Circuit Court." Opponents state this "limits the voters in communities from deciding on the election of county officers."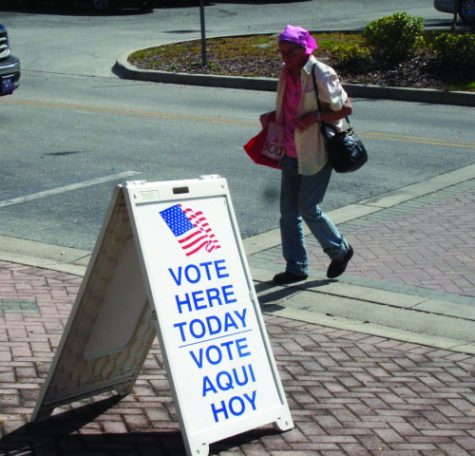 Amendment 11 removes obsolete language having to do with high-speed rail in Florida but also deletes a provision that forces the state to prosecute criminal suspects under the law they were originally charged.
Amendment 12 deals with the "need for lobbying reform, expanding from two to six years the time that many officials would have to wait before they could lobby state government." This amendment does not deal with the real issue regarding lobbying, which is the impact of money in political campaigns.
Amendment 13, "bans wagering on any type of dog racing, notably greyhounds, as of Dec. 31, 2020, while continuing to allow dog tracks to continue offering other types of gambling, including poker rooms."