HCC helps spread mental health awareness for veterans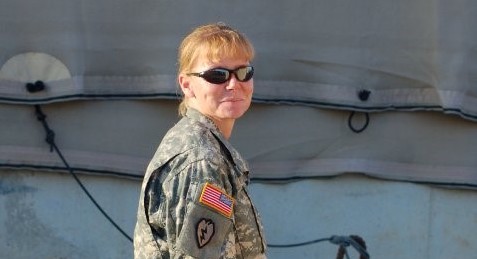 The HCC campuses are hosting various events for Mental Health Awareness Month. One of the events on the Plant City campus involves veterans. Molly Coufal, who works in the office of the Dean of Student Services, is spearheading some of the events.
Coufal and her husband are both combat veterans and work with two local groups. One is Operation Stand Down based in Pasco County and the other one is My Warrior's Place out of Ruskin. Coufal says both are excellent organizations that help veterans. She says My Warrior's Place has an upcoming retreat for veterans and first responders with PTSD.
According to Coufal, "It's not just a way for us to give back, but it's a way to share our knowledge. If a vet does not tell you, it's hard to find out because there's no magic book to tell us about resources for us."
Coufal wants to get a Veteran Student Association started on the campus. She feels if veteran students can get more involved in the community, they will feel less isolated.
When touring musician and former U.S. Marine C.J. Ramone was asked about the veterans that attend HCC he said, "They are probably the most motivated and well-trained people in the country and there's only one percent of the U.S. population that serves."
As a veteran himself, Ramone said what frustrated him when he got out and even later is how he had a work ethic where he felt everyone should always be doing the best possible work but many other people did not have that ethic and he did not do well working with some of them. He also talked about how the suicide rate is high among veterans and urges them to utilize the counseling services available, whether it be at the Veterans Affairs (VA) or HCC.
On average, approximately 7,300 Veterans die from suicide each year.
Jason W. Dangel, the deputy manager of the Office of Communication & Stakeholder Relations of the VA Sunshine Healthcare Network (10N8), said, "Raising awareness to Veteran suicides and the resources available to help is everyone's responsibility."
The VA is not able to reduce the veteran suicide rate alone. Federal, state and local organizations must work together.
There are two hotlines available to veterans with need: the Veterans Crisis Line, 1-800-237-8255, press 1; and the Florida Veterans Support Line, 1-844-MyFLVet (693-5838).
If you are a veteran in need of help, please call one of the organizations. If you are not, but have friends or loved ones in need, be there for them. Listen to what they say, ask the hard questions and assist them with connecting with the VA and other important community resources. Be the difference and be there for a veteran in crisis.
Dangel says you can contact him at Jason.Dangel@va.gov with any questions or concerns.
You can reach Coufal at mcoufal@hccfl.edu to participate in groups both on and off-campus.