Sammon's path in radio all but ordinary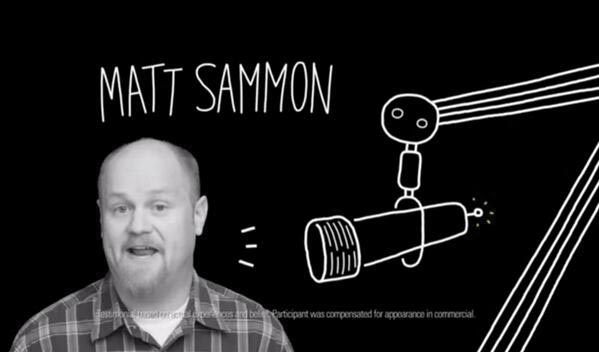 Matt Sammon never dreamed a career in broadcasting would take him so far.
Sammon, who serves as the director of radio broadcasting for the Tampa Bay Lightning and has been an announcer on the team's radio network for eight years, grew up with a hope that one day he would earn an opportunity to have his voice heard by millions of people.
But, initially that dream didn't include radio. Sammon wanted to be in front of the camera on TV.
"The funny thing is, radio wasn't initially my career goal," Sammon said of his early aspirations. "When I first got interested in broadcasting — and I mean really interested in high school — I was determined to be a TV play-by-play announcer for baseball. Those were my passions then. But when I visited the University of Alabama — where I would go to college — I discovered their TV facilities at the time were subpar compared to my high school's — and that's saying a lot considering my high school hadn't had any new equipment installed in a good eight or 10 years.
"I toured the radio station (at Alabama), fell in love with it, and the rest is history."
After that day, Sammon began working at Alabama's college radio station. Then, just two months later, he was hired at a local radio station in Tuscaloosa, where he acknowledges it wasn't his best work.
"I was hired part-time to work weekends at a classic rock station, Sammon said. "I had just started and I was terrible, I had no personality. Yet, for some reason, Pam Dutton, the program director of the station, took a chance."
That one chance eventually led Sammon south to Tampa. He began working as a student-intern on WMTX 100.7-FM, serving as the station's intern. He also helped out on the news-talk radio station, WFLA 970-AM.
After completing the internships, Sammon finished his degree at Alabama. Then, he said he sent out more than 106 resumes and demo tapes around the southeast, just begging for an opportunity.
It worked.
Sammon was hired – again in Tampa – on WDAE 620-AM, a sports radio station, as a part-time audio board operator.
He admits it wasn't his first choice. "I was depressed I didn't get a full-time job, but I busted my hump doing anything they gave me, and low and behold three months later I got in full-time," Sammon said.
"For the next seven years I continued to work hard as a producer, talk show host, weekend disc jockey, production assistant, traffic reporter, executive producer, you name it."
A few months later, the offer of a lifetime came from the Tampa Bay Lightning.
The organization wanted him to be the voice of its pregame, postgame, and intermission reports on its multi-station radio network.
Needless to say it didn't take Sammon very long to accept. "Best working day of my life," he said.
Immediately, Sammon's daily tasks began to change.
Instead of having free time like his former gig, Sammon had to start doing more than six hours of research every day on the Lightning's next opponent just to see how that team matched up. Sammon said he also spends most of his days at Tampa Bay Times Forum, interviewing players and coaching for his pregame, intermission and postgame radio reports.
His director duties include producing segments, writing scripts and handling sponsor reads for play-by-play announcer Dave Mishkin to read during a game.
On non-game days, Sammon can often be found producing the weekly Power Play Podcast at the WDAE studio, co-hosting the weekly show, Lightning Hockey Night on WHNZ 1250-AM, and keeping in contact with program directors from the Lightning's statewide network of nine affiliate stations.
One of the first things Sammon was nervous about when he came to the team, was how the players would react to him being the "new guy."
But once he got the hang of everything, Sammon said he realized what a treat it was working with some of the NHL's biggest stars. And, he says, that hasn't changed today.
"It's not just (Steven) Stamkos or (Marty) St. Louis, it's all the players. Hockey players in general are nice, approachable people," Sammon said. "You talk to them once and you feel like you have known them forever.
"There's something special about this team. All the players are good people, who work hard and play for one another. Whether I'm talking to Stamkos or B.J. Crombeen, I'm talking to someone fans of this team and citizens of this community can be proud of. What they do on the ice is special, but how they carry themselves off the ice is more representative of who they are."
Sammon said while his radio career has been far from ordinary, he's enjoyed every second of it.
Still, Sammon knows the industry is constantly changing, which means he has to be ready for anything.
"My main goal now is to continue doing the best I can do for the Tampa Bay Lightning, inspire others to do so, and continue to advance as far as I can go," he said.
"I don't know if I'll ever truly retire, I'm such a busybody, an inherited trait from my father. But when the time comes as long as I can look back and say, 'Well that was fun,' I'll be good."