Tampa Bay Lightning Fan Fest
Hang on for a minute...we're trying to find some more stories you might like.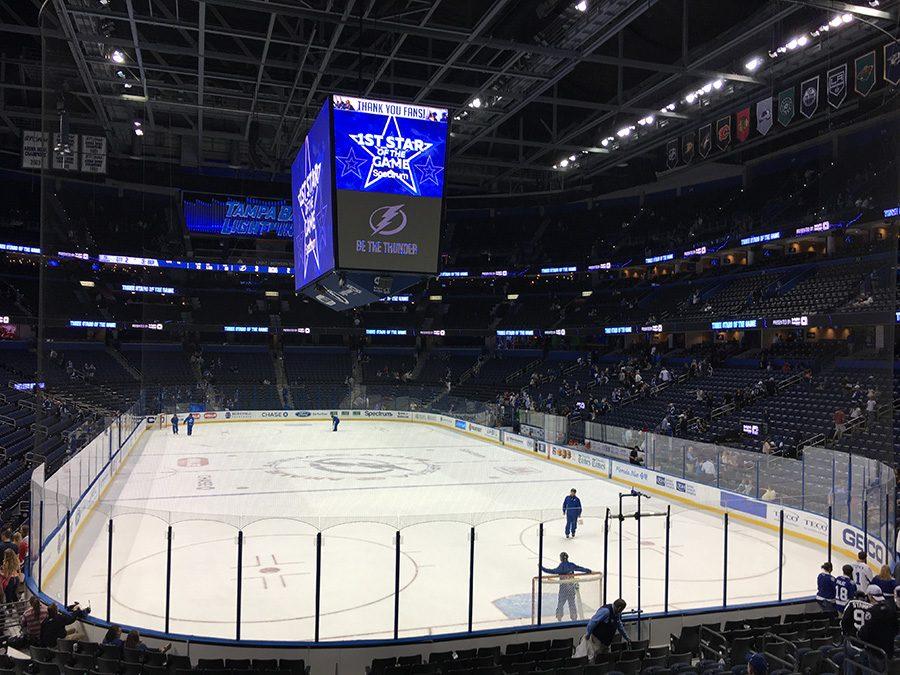 Sydney Dixson/STAFF
The Tampa Bay Lightning are a team I love and have supported for years. I have been with them since the 2004 Stanley Cup up until today, and their most recent notable achievement being the resigning of captain Steven Stamkos. The organization worked long and hard to provide for the team provided us with 3 straight seasons of playoff appearances and one Stanley cup final appearance. As we inch closer to the regular season beginning on the 14th, the hype has intensified and the stress of not having NHL play has died down. To commemorate the start of a new season, the Tampa Bay Lightning owner and the organization hold a Tampa Bay Lightning Fan Fest Day.
The Fan Fest day was a morning to mid-afternoon event. It started at 9:30 with player scrimmages, Q and A's, and alumni talks for the season ticket members making it an exclusive event. But, at 11, when the main gates opened for the general public, was when the festivities began. With another scrimmage set at 11:15, the fans pile into the stadium seating about 11,000 people out of the 20,000 that can fit, and it was the largest crowd they ever received for a non-game hockey event. The stands were filled from bottom up in the 100 sections with anxious, yelling, enthusiastic fans all waiting to watch the players play 5v5. The most exciting aspect was not only that we were able to see current players practicing and gearing up for the regular season, but also some returned from the World Cup of Hockey, so we got to see some real All-Stars. Along with that comes the bright young prospects who are also competing in tryouts to make the pro team for the first time. The atmosphere was absolutely electric.
At the gates, we received a coupon voucher for a free autograph at a designated location in the stadium at a set time. This was something they changed from the previous years since before you just went to any station with a line and guard rail and waited to see who would show up. The fans would hope the players would stay at their designated tables and give you the time for an autograph before they had to go back to training. Unfortunately, many fans were displeased when they were unable to get autographs from their favorite players. This year they tweaked it with the voucher. The voucher not only allotted a time but a location, and if you missed said time or didn't go to that signing you were out of luck and had to get another voucher, which were in limited quantity. Luckily, I was one of the first in line to get a voucher, but unluckily they didn't have any current players, only prospects. In reality it seemed a little unfair that the people who showed up early got autographs from the minor league guys. I had no complaints though, because at least I was able to get some. I received on from Danielle Walcott and Mitchell Stephens.
After the autograph sessions, it came down to free popcorn, more scrimmages, and a raffle for free tickets to a preseason game. I won those tickets and gave them to my parents, because I already had two tickets for the same game in a lower level. Over all, the experience is one of chance. But if you're interested as a fan, or maybe just for the experience, I recommend it as it is a fun way to spend the morning and maybe meet a few famous hockey players.