Get happy listening to Shonen Knife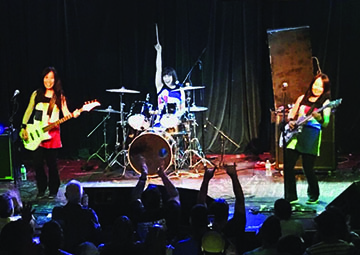 Shonen Knife is a pop rock/alternative band that formed in Osaka, Japan, in 1981. They are currently on a U.S. tour.
Naoko Yamano, the lead vocalist and guitarist, recently spoke with the Hawkeye about the band.
In the late 1980s and early 1990s, popular alternative bands like Nirvana, Redd Kross and Sonic Youth talked about Shonen Knife to fans and journalists. Redd Kross and Sonic Youth even played on a tribute record where bands played Shonen Knife songs. The record is "Every Band Has a Shonen Knife Who Loves Them." It became a type of springboard to popularity in North America. Yamano says that even now, people who go see Shonen Knife play are a mixture of those older fans and younger people who enjoy poppy, happy music.
Shonen Knife's newest release is called "ALIVE! in Osaka." It is a live CD/DVD set with songs spanning their career. Older songs like "Bear up Bison," "Twist Barbie" and "Riding on the Rocket" are mixed in with newer songs like "Rock 'n' roll T-shirt" and "Jump into the New World" from their 2016 record, "Adventure."
When asked about her current favorite song to perform, Yamano says, "Now I like to play 'All You Can Eat' from our album Pop Tune."
She goes on to say there is a call and response part of the song that get the audience involved, which makes it fun to play live.
When this tour ends, Yamano plans to write new songs and record a new record. She hopes to be able to release it sometime next year.
While on tour, members of Shonen Knife keep journals of their adventures. Yamano is quick to mention the alligator they saw last year when they were in Tampa. All three band members posted pictures of the alligator at http://www.shonenknife.net/tour_blog_2017us.html. Yamano says last year was the first time the band played in Tampa and Orlando.
Yamano says she writes everything down while on tour so she will not forget the good times. She is also very positive about her experiences and only talks about the good things that happen on tour when relating stories.
Yamano remembers her roots in music and the help other bands and press gave Shonen Knife.  She continues the tradition today. She says she really likes a band called Extruders. They are an underground band from Japan, and Yamano is quick to point out that their music is available on Apple Music.
When asked about advice she has for HCC students, Yamano says, "You can get happy if you listen to Shonen Knife songs."
You can find their music on Spotify and Youtube. You can also buy their latest albums directly from their record label at https://www.goodcharamel.com/store/c2/SHONEN_KNIFE.html.
In parting, Yamano says, "Let's have fun! I hope to see you in the U.S.! ROCK!!"