Coalition of Immokalee Farm Workers visits HCC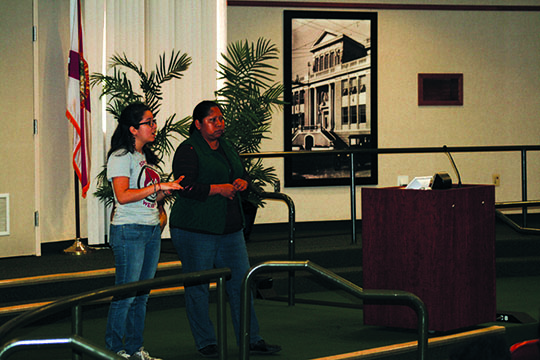 HCC offered an eyeopening presentation to its students Feb. 27. Lupe, a Florida farmworker from rural Immokalee, came to inform students about the unfortunate lifestyles that the people who pick our food live in. The Ybor Room gave enough space for Lupe and her translator to explain the poor living conditions, harassment, and physical labor involved with her job in the past and present.
The first subject that was covered was the 20-year history of the Coalition of Immokalee Workers and what they presently doing. The group, a worker-based human rights organization, was formed to end abuses, raise low and stagnant wages, and make better working conditions.
Lupe addressed the struggles of farmworkers who live removed from most of Florida citizens' everyday lives. She also covered the many changes and advancements gained by workers in the tomato industry. The movement started with some workers going on a 30 day hunger strike as well as multiple work stoppages that lasted up to two weeks. Regretfully the strikes could not last longer due to the need for money that the workers rely on to live.
Lupe asked the students what they thought of when they hear the term farmworkers? Most replied with "long hours and grueling manual labor." Lupe concurred, "Exactly, farmworkers face these on a day-today basis. Even basic necessities like access to water is something we did not have."
Lupe then elaborated on her prior work schedule before the changes were made. They woke up at three in the morning to get to the busses and head to the fields. However, they did not actually start to work until 10 a.m. due to dew and moisture and they would not get paid for the hours waiting.
Once the day begins, the workers crouch down and fill a bucket of tomatoes. A full bucket weighs around 35 pounds and has to be lifted and ran to a filling truck. One HCC student attempted to pick up the bucket but after a few seconds dropped it and said "I'll take your word," referring to how heavy it was to lift and run with. To make minimum wage, workers would have to fill and lift 150 of these buckets per day and their Income depends solely on how many buckets they fill.
"If a female worker was harassed or sexually abused, there was no way to seek out help," explained Lupe. There was also a time where a worker asked for a drink and the crew boss in charge of the workers told the thirsty laborer to hope it rains.
The changes came when activists and the workers started focusing on the owners of the large farms and produce companies. By bringing to light the conditions, the owners were eventually forced to do something. Public pressure then brought changes to companies like Wal-Mart, McDonalds, and Taco Bell who signed on to only buy food from farms that pay their workers a fair wage and treat them humanely
The Tampa Bay Fair Food movement is hosting the Return to Human Rights Tour March 29 at the Publix on 2401 W. Azeele St. They will walk to a nearby Wendy's to increase public awareness on the need for farmworkers to have basic human rights. The focus is on large corporations that still refuse to sign the agreement to buy their food from a company that gives decency and basic human rights to the workers who harvest our food. Wendy's and Publix are on top of the list.