Impractical Jokers in Tampa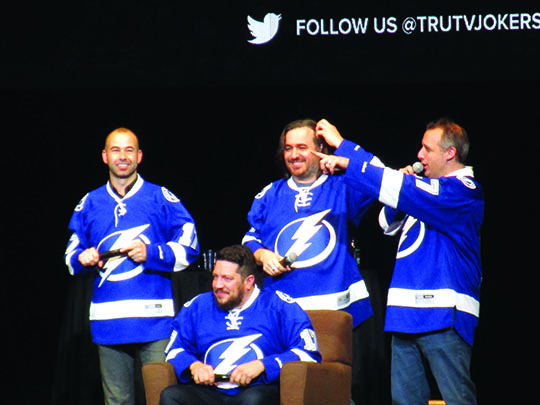 Hang on for a minute...we're trying to find some more stories you might like.
The comedic quartet, The Tenderloins, left Tam­pa citizens laughing long after their performance end­ed Friday, Feb. 3 at Amalie Arena. The pranksters rose to stardom with their hit show, Impractical Jokers, which airs on Tru t.v. Most of the time the show fea­tures simple and lightheart­ed prank that involve play­ing games on unassuming citizens of New York City.
Most fans are used to seeing the group of Sal Vulcano, Joe Gatto, James "Murr" Murray and Brian "Q" Quinn spend time in public places daring each other to conduct hilarious pranks in public. It was re­freshing to see the jokesters on stage in an impromptu style of roasting each oth­er in front of the Tampa au­dience. The surprise of the night wasn't the jokes but the language thrown around that isn't heard on their tele­vision show. However, the crowd was warned as the show was for people 16 years and older.
The "Santiago Sent Us Tour," began with the four friends coming onto the stage and delivering the au­dience a preview of next season's first episode. It be­gan with a shot of Murray's face, which happened to be with no eyebrows. The skit set up to where the oth­er three jokers could draw any expression on Murray's face and then they wrote lines that he had to say to ordinary people walking in the park. The comic then began to ask people to take his picture while wearing angry eyebrows that were drawn on him. Pedestrians found it funny. The roast­ing then turned to Joe, as a picture of his 13-year-old dog was placed on the big screen. The others laughed and yelled one-liners like, "Buy one disease and get one free," referring the dog's looks because it was so old. Quinn then point­ed out, "We live in the age of digital photography and that was the best picture we could find of your dog!"
Sal was the next one to take his licks on stage. The guys blasted him for his lack of courage and feminine qualities. He also shared the story of when his neighbor, an NYPD detective, came knocking on his door in the middle of the night. He was asking for backup be­cause someone had broken into his apartment and he thought they may still be in there. Sal explained how he then followed his neighbor to his apartment still half asleep in and Corona paja­mas.
There was also the abil­ity for the audience to see four behind the scenes ep­isodes. These included a dare where each prankster had to be creepier than the others, which Murray won.
He strolled through a children's park in white ka­kis, a pastel colored polo shirt, a mustache, and glass­es.
The night closed with the rather distasteful dare where Murray would receive a de­cent amount of money for eating dog poop. The star did not disappoint as he downed it with a soda and then grabbed his winnings.