Vic Fuentes and Living the Dream Foundation make dreams come true
The Living the Dream Foundation (LTDF) recently announced Pierce the Veil's Vic Fuentes as their CEO and co-chairman. The organization was established in 2007 by Scottie Somers to create #DreamDay experiences for children and young adults fighting life-threatening diseases.
Experiences may include meet-n-greets with guests' favorite bands, VIP and all-access to concerts and special events, surprise gifts and hospital visits.
Somers started the nonprofit organization because he has cystic fibrosis and understands the needs of people with terminal illnesses. Believing in the importance of a positive attitude, Somers hopes to "touch as many lives as possible."
"I wanted to show anyone out there in the crowd who may have been going through a hard time in their life, that they could do anything," Somers said. "Playing music made me feel as if I was truly 'living the dream,' despite all of my imposing obstacles."
While playing for his band, he only missed three shows due to his illness.
His dedication to music and helping people is one he shares with Fuentes, who Somers said came into the picture naturally. Fuentes was first introduced to the foundation when guests requested to meet him and his band. He became an ambassador in 2016.
According to Somers, Fuentes cares, shows empathy toward and does all he can to put smiles on the faces of the LTDF guests.
"I love being a part of this foundation because it's so tangible and real," Fuentes said. "It's amazing that we get to see the faces of the people we are trying to help."
Aside from his passion, Somers commends Fuentes as being knowledgeable, possessing leadership skills and bringing great energy to the foundation. He feels the foundation will become stronger with Fuentes.
With his appointment, Fuentes plans to use his position and band to expand the influence and impact of Living the Dream Foundation.
"I'm excited to join forces with Scottie Somers and the entire Living the Dream Foundation team to continue their mission of inspiring hope and positivity in the lives of these people who need and deserve it most," Fuentes said.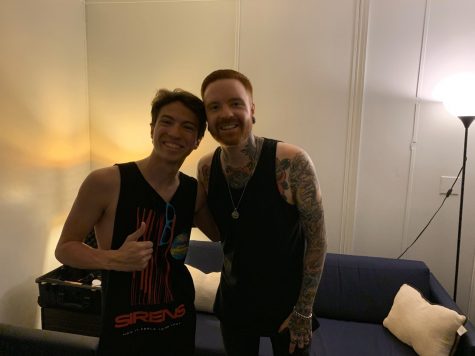 Recently, Living the Dream has worked with Warped Tour and Welcome to Rockville to bring people to meet bands and go backstage. Danny Wimmer Presents is a big supporter. They give recipients All Access passes to many of their festivals. Artists who have recently participated include Andy Biersack of Black Veil Brides and Andy Black, Mason Ramsey, Sheryl Crow, and Matty Mullins of Memphis May Fire.
"The best part about having a platform is being able to use it to give back and Living the Dream Foundation has given our band some of the most meaningful opportunities of our career," Mullins said. "The moments we share with LTDF guests are the highlights of each tour and the joy that they leave with is priceless. Thank you LTDF!"