The world of franchising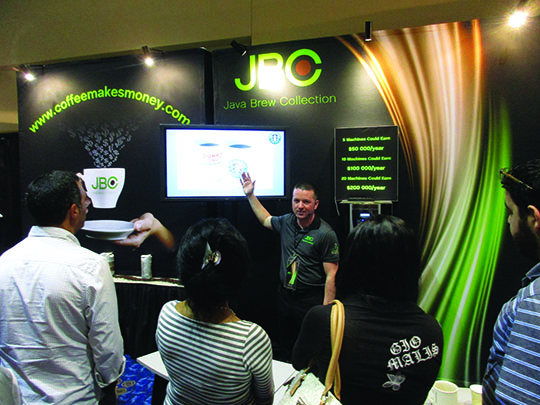 Over 50 black booths were set up at the conven­tion center Feb. 18. and 19, as national franchises looked for potential fran­chisees to open future busi­nesses. The event gave in­terested investors a chance to meet with top executives from expanding companies that are looking for contin­ued growth.
Throughout the day, there were seminars given from top small business experts, some who have bestselling books on the market. Carl Gould, the author of "The 7 Stages of Small-Busi­ness Success: From Startup to Seven Figures in Three Years or Less," led a semi­nar about the key strategies that can take your business to the next level. He be­gan by asking if anyone had seen the movie "March of the Penguins." Gould went on to explain how a per­son's business has to stand out and not be blended in with all other businesses in the industry, comparing it to the thousands of penguins that all looked alike in the movie. Gould stressed the importance of starting on social media to build your brand. He said, "You are ei­ther helping your brand or your rivals brand. If you do not have subject matter ex­pertise then you are build­ing someone else's brand." He elaborated by explaining inactivity or a bad image pushes potential customers to businesses that are mak­ing the right moves.
Franchising is a way for established companies to sell their brand to investors. The potential business men and business women can purchase a certain amount of stores to open from the company. That person pays the company a franchise fee and many other costs in or­der to open a location. The investor is then in charge of the business but has help and assistance from the cor­porate office of the fran­chise. The business owner usually has a business con­sultant from the corporate office that assists in open­ing the store and ensuring policies are followed. The most notable franchises in attendance were, Seven Eleven convenience stores, the UPS Store, Captain D's Seafood and Java Brewing Stations. Many franchises are also veteran friendly and give huge discounts on fran­chise fees in order for prior soldiers to open their own businesses.
Nick Neonakis, another industry expert, explained the first two questions on should ask themselves about buying a franchise. Is a franchise better for me than opening my own busi­ness? If so, which brand and franchise should I open? He explained that there are pros and cons to buying into a franchise. The pros are you get great human resources, branding and financial re­sources. The cons are the fact that you have to follow the set rules of the business and pay a certain amount of fees and royalties.
There are over 3,000 fran­chising brands in the United States. The total number of franchise stores in the U.S. is over 740,000. The direct economic output from fran­chise brands is averaged out to be $710,000,000,000.
The total number peo­ple employed by franchises adds up to more than 7 mil­lion workers. These busi­nesses are categorized into 10 industries and the most recognized are restaurant and food service, auto in­dustry jobs and fitness ser­vices.