Plant-based fun in Tampa Bay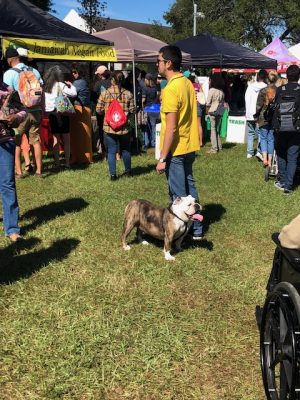 The ninth annual Tampa Bay Vegfest was held on Nov. 3. The vegan food festival was held at the Perry Harvey, Sr. Park in Downtown Tampa. This was a change in venue from last year's event, which was held at Cotanchobee Fort Brooke Park. Attendees seemed happier with the new location, which has a lot more room for growth.
On one end of the festival there was an entire area dedicated to pet adoptions. Several local animal rescues brought dogs along that were available for adoption, and one tent even featured an opportunity to gently pet bunnies for $1. Leashed pets were welcome and many people opted to bring their dogs along.
Cooking demos by local chefs such as Timothy Fedorko from the Farmacy Vegan Kitchen & Bakery were featured throughout the day. He demonstrated how to cook "Peach BBQ Jackfruit Sandwich with Jalapen͂o Slaw."
Admission to VegFest was free, and attendees got to participate in free yoga classes taught by certified instructors. Classes were made accessible to both beginners and the more experienced.
The youngest vegan food fans were not left out, as there was a Veggie Kid Zone where kids were able to make crafts, watch shows, attend book readings, paint, and even put on their very own "Just Like Us" parade, which celebrated the lives of all creatures.
At the heart of the festival was the food. Apart from an entire tent dedicated to free samples, over 50 vendors from local restaurants served up vegan fare. There were also food trucks with plant-based treats. Raw juices, veggie burgers, hot dogs, fried "fish", tacos, ice cream and cookie dough were just a few of the options presented.
For the first time ever, VegFest hosted a vegan macaroni and cheese cook-off, which featured ten local cooks competing for the title of "The Best Vegan Mac n' Cheese of the 9th Annual Tampa Bay VegFest." For a fee, attendees of VegFest could taste the contestants' offerings and vote for the People's Choice Winner. A panel of "celebrity" judges also chose a first place winner. The Celebrity Judges' First Prize went to Dominique Martinez, and the People's Choice Winner was Lauren Haynes.
VegFest was hosted by Florida Voices for Animals (FVA). It is a Tampa Bay-based nonprofit organization that generates awareness of animal issues and educates individuals about how to make compassionate choices for animals. Visit their website at www.FloridaVoicesforAnimals.org for more information.

About the Photographer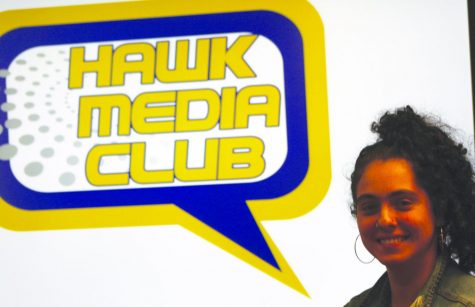 Magdalynn Pollitt, Editor-in-Chief
Magdalynn Pollitt is the Editor-in-Chief of The Hawkeye

Magdalyn Pollitt, 25, was born in New York City and currently resides in Tampa, Florida. Pollitt...