Find out what's new and upcoming part 3
Concerts, plays and dance recitals
There are a lot of events coming to Tampa Bay in the next few months. Here are a few of them.
Nov. 7 Ruth Eckerd Hall
Alice Cooper is returning for his "Ol' Black Eyes Is Back" tour. Expect to see a lot of theatrics, including possible beheadings and monsters on stage. Cooper just released the "Breadcrumbs" EP in September.
Nov. 7-10 HCC Ybor Studio Theatre on Ybor campus
"Hierarchy of Fish" is a comedic play Judith Leora wrote specifically for HCC, Birmingham Southern College and Shenandoah University that tackles the ideas of free speech, tolerance and civility that exist on a college campus.
Two casts will alternate performances, and people will be able to talk to the audience and playwright at the Thursday and Friday performances. You can catch "Hierarchy of Fish" Nov. 7-9 at 7:30 pm and Nov. 9-10 at 3 p.m.
Michael Stockford, who plays Elliott Strange in both casts, says, "We love controversy in theater. This play helps people understand."
Suzy DeVore of HCC's Drama department says the play will most likely sell out, but that you can RSVP at web.hccfl.edu/apps/artevents.
Nov. 10 Crowbar
Varials, Counterparts, Stray From the Path, Chamber and Greyhaven are performing.
Varials released "In Darkness" in October.
"As a whole, this LP is the evolved state of our band as we've shifted from being heavy for heavy's sake into being heavy for a reason," says singer Travis Tabron. "We've become heavy in a truly dark way, and to be honest, it's what we've always wanted. 'In Darkness' is exactly where we needed to be."
Nov. 12 Orpheum
Grammy-winning High on Fire will play the only Florida show of their current tour. They are bringing Creeping Death, Power Trip and Devil Master.
"Death metal's new breed of old ghouls mutates vintage fringe into the modern mainstream. Leveraging the rhythmic latitude of thrash and hardcore, CREEPING DEATH torque the genre's thick guttural trademarks with ramrod propulsion and knockout delivery that's seemingly innate." – Decibel Magazine
Nov. 13 Ferg's Sports Bar & Grill in St. Petersburg
Warped tour veterans Pennywise are coming along with The Bronx and Authority Zero.
Nov. 14-16 HCC Ybor Mainstage Theatre on Ybor campus
HCC's Fall Dance Concert performances will be at 7:30 p.m. This year's concert features performances by the HCC Dance Ensemble performing works by faculty and guest choreographers. Highlights include works by Heather Ahern, Julie Harlan, Beth LaBaren-Root, Richard Allan Ploch, Helen French, Sharon McCaman and Christina Acosta.
For more information, please contact Christina Acosta at 813.253.-7623 or cacosta@hccfl.edu.
Nov. 15 Capitol Theatre
The Wizards of Winter will evoke the spirit of Christmas, weaving a story entirely based on their latest full-length album, "The Magic of Winter." The performance will showcase soaring vocal harmonies, precision string instrumentation, outstanding guitar leads, powerful percussion and stunning keyboard work – taking the listener on a musical journey, covering many genres from pop to progressive rock. Previous tours have seen The Wizards of Winter performing their brand of theatrical yuletide rock to tens of thousands of attendees and have grabbed the attention of mainstream media such as Entertainment Weekly and Yahoo Music.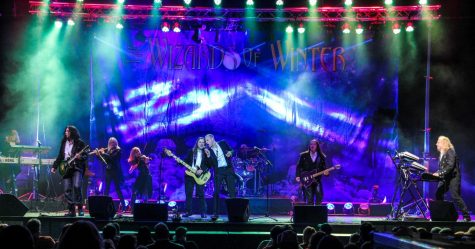 Nov. 17 Ritz Ybor
Horror fanatics Ice Nine Kills are coming back along with Light the Torch, Fit For a King, and Awake at Last.
Ice Nine Kills have songs based on horror movies like "It," "Friday the 13th" and "A Nightmare on Elm Street."
Howard Jones of Light the Torch says he feels 'right' when he is creating and that he "somehow stumbled on what makes [him] happy."
Nov. 23 Orpheum
Bayside set up a contest on their website for local, unsigned bands to open for them on this tour. Go to support the local band along with Bayside.
Nov. 23 Yuengling Center
Fantasia and Robin Thicke are playing.
Nov. 24 Amalie Arena
Pop powerhouse Ariana Grande is coming.
Nov. 27 Orpheum
Cannibal Corpse is one of the biggest death metal bands of all-time. They are ending their tour here in their hometown. Thy Art Is Murder and Perdition Temple are opening.
Dec. 1 Orpheum
La Dispute and Touché Amore will play their post-hardcore.
Dec. 3 Brass Mug
The Queers are punk legends not to be missed.
Dec. 6 Ruth Eckerd Hall
Trisha Yearwood has been releasing records since the early 1990s. Her newest is called "Every Girl" and was released in August.
Dec. 7 Brass Mug
Get ready for a heavy show when thrash stalwarts Death Angel come with Exmortus, Hellfire and Tampa's Vacuous Depths. There is a metal cover of "Night on Bald Mountain" on the new Exmortus EP.
Dec. 14 Brass Mug
D.R.I., one of the innovators of Crossover Thrash, will play their annual show at the Brass Mug.
Dec. 15 Orpheum
Daughters is a noise-rock band that put out their latest album in 2018. They are finally going to perform in Tampa.
Dec. 20 Ruth Eckerd Hall
If you like Christmas music, look no further than here where you can see Lindsey Stirling and her "Warmer in the Winter Christmas Tour."
Dec. 20 Orpheum
If you prefer something a little eviler right before Christmas, you may want to catch Morbid Angel, Watain and Incantation play death and black metal.
Jan. 4 Orpheum
The Almost is the brainchild of Underoath drummer/vocalist Aaron Gillespie. "Fear Caller" was released in October. The song "Tame a Lion" features JR Wasilewski from Less Than Jake on saxophone.
"Musically, the old Bruce Springsteen-like rock sax solo is something I've never done," Gillespie says about the song. "I called JR up, and he obliged and did it quickly."
In addition to new tracks from "Fear Caller," The Almost will be playing their 2007-released debut album "Southern Weather" in full on this run. All Get Out, Ghost Atlas, and Rowdy will appear on tour.