John Lynch Deserves the Hall of Fame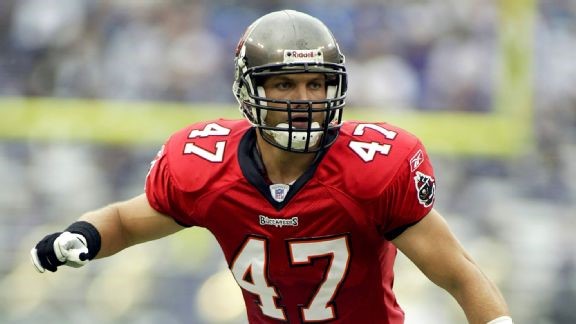 Scott Halleran/Getty Images
John Lynch getting into the Tampa Bay Buccaneers' Ring of Honor brings back memories of when football was fun to watch back in the day, due to the fact that you knew you could put fear into an opponent by laying down the wood on them anywhere on the gridiron. John Lynch deserves a place in Canton, Ohio putting on a gold jacket, as he was one of the better safeties in the league with or without the Buccaneers' elite defenses that he played. He is up there with many of the greats he battled with at that position during his time against Brian Dawkins, Ed Reed, Rodney Harrison, and others for the top safety ranking.
#47 was a fan favorite in Tampa, and Buccaneer fans extend that appreciation with a great standing ovation at his enshrinement into the team's Ring of Honor on the night of their loss to the Atlanta Falcons.
The Stanford product came into the league like a wrecking ball, and Barry Sanders attested to that saying, "John was as good as any safety I ever played against." John Lynch's hit on Barry Sanders is probably his most famous hit ever and it was a hard one, which Sanders also said, "He reminded me a lot of guys like Ronnie Lott and Steve Atwater. He was a terrific player, a great defender, a fierce defender. He could knock the snot out of you." Lynch forced 16 career fumbles due to the mean strength he possessed.
He made his name by laying out players and showing brilliant recognition in the secondary, where he picked off the football 26 times, which 23 of them were with the Bucs. Lynch, the ever dedicated person he was, did not miss many games. Interestingly, John Lynch was one of the most clutch fourth quarter safeties in all of football by recording 14 of his 26 career interceptions in the last quarter of games.
NFL players, former players, coaches, and media members have all put John Lynch in the NFL's top 10 list of most feared players of all time, as he made 736 tackles. Barry Sanders noted "John Lynch didn't just play the position, he occupied a spot in your mind and you had to be aware at all times where he was on the field." Now that is fear when you are just trying to find one player and not focusing on running the play. Peyton Manning and Jon Gruden agree that John Lynch deserves to be in the Hall of Fame.