The role of JUCO athletics in recruiting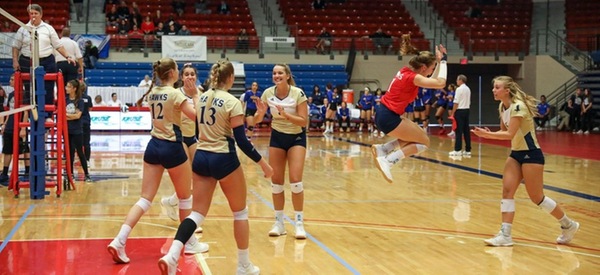 Junior colleges are schools where people can develop and adjust to college life until the time comes that they are ready for their four-year universities. The athletic programs are quite similar.
If you watched "Last Chance U," a documentary series on Netflix about Junior College football, you would assume that the students who populate the sports teams at Junior Colleges have bounced around, couldn't stay out of trouble, or had trouble keeping grades. Hillsborough Community College's Athletic Director, Sarah Summerfield, assures that the students who are on the sports team here do not fit that glove.
Summerfield was in her office on the Dale Mabry Campus, right next to the Gymnasium, in room 106. There, she details how important Junior Colleges athletics (JUCO) can be, how integral recruiting is, and how that has led to building strong sports programs at HCC.
"We have kids from all over the country and all over the world, and we provide something special in that [here] we provide…the opportunity to grow both athletically and academically," Summerfield said. "A lot of kids see that as a benefit as it gives them a better school to transfer to for their bachelor's degree."
JUCO's, like HCC and the schools, featured on Last Chance U, do fill that niche for students who aren't ready yet, whether it be for physical reasons or academics, but that's not everyone.
"We compete with four-year programs for talented kids. At the end of the day, if a kid gets an offer to USF or UT, it's difficult to get them to come to a 'two year,'" Summerfield said. "Once they see what we have here, and they can see the program, then we [can] sell HCC to a lot of students."
Netflix and "Last Chance U" would have you assume that all the kids that play sports at a JUCO are D-1 rejects, and Summerfield assures that isn't the case. 
"We are lucky enough to get really good kids that can come here," she added. "We do have to do a little bit more: more work, more research, and it can be a little hard. Luckily, we have coaches, and we have resources to be able to do that. They aren't flocking to us, but once we sell them on our program, we get those great kids."
The time that the "really good kids" flock is Signing Day, which was Feb. 5th, where around the country recruits sign paperwork to join the school and sports program. JUCO's are in a weird position on signing day in that they are both working on signing kids and getting kids signed. "Our goal is to help student-athletes transfer to a four-year program, so we always try to make it a big deal when it does happen," Summerfield said.
Another critical, status building component of two-year programs is to get kids that would typically take a redshirt at a D-1 level school or to get a "four-to-two bounce back."
"Our pitch to kids that would usually take a red shirt, or walk on, or those four-to-two bounces back is just to be realistic with them," Summerfield said. "Ask them, 'Are you going to play? Or do you want to come to HCC, where you will play for two years and when you go back your junior year, you will be more developed than if you sat the bench for those two years.'"
The pitch is working because the volleyball team is currently ranked in the top 10, the tennis has been runner-ups in the national tournament in two of the last three years, and baseball, softball, basketball have all been to the national tournament. But don't think that all of this is easy.
"It's difficult to establish JUCO programs because we lose half the team every year," Summerfield said.