"Hierarchy of Fish" sells out at HCC's Studio Theatre
All five performances of the play "Hierarchy of Fish" were sold out at the Studio Theatre on the Ybor campus from Nov. 7-10. The play was written specifically for HCC, Birmingham Southern College and Shenandoah University through the Farm Theater College Collaboration Project. HCC was lucky enough to be the first place "Hierarchy of Fish" was ever performed in front of an audience. After the Thursday and Friday performances, the playwright, the artistic director of the Farm Theater and the cast answered audience questions.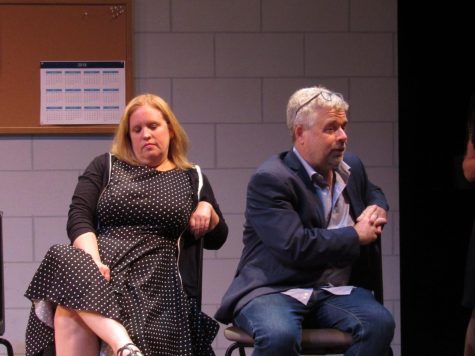 Playwright Judith Leora said, "I wanted to write about political correctness on campus … but it became more about dominance and control."
Set in a large university, the play centers on a professor who has misogynistic views is giving a speech. Some students decide that his opinions constitute hate speech, so they protest and sabotage the speech. There is a lot of discussion about equality and how people should behave towards one another.
"The play brings awareness to pronouns and trans rights," said Kat Scott, who played Margeaux Kingley, the daughter of the professor.
Michael Stockford, who played Elliott Strange, said the play is basically about freedom of speech versus hate speech, and that it brings up a lot of issues that are important today. Indeed, Padraic Lillis, artistic director of the Farm Theater, wants HCC to use the play as a tool to generate dialogue about the issue throughout the school year.
The play is well-written, and the characters are not one-dimensional. No one is completely good or completely bad. The characters are like real people rather than stereotypes.
Randall Kingsley, the professor, is first made out to be a horrible person who hates women, and non-binary people. The students who do not like him even refer to him as "Parrotfish Man," based on a paper he had written about how parrotfish always have a male in charge. At the end of the play, he is shown with his daughter accepting her as a bisexual female. It seems like his incendiary lectures are more for show and money than how he lives privately.
The main protagonist, Ash, is at first someone who is driven personally but is also someone who wants fairness in the world. However, she is shown to be controlling and domineering in her personal life.
Other characters show that they have many sides to them. Jake, an antagonist, has abandonment issues and tries to make peace with people while looking for some order in his life. Hannah tries desperately to fit in by following the stronger Ash but then shows that she has deep feelings. Sandy, Ash's roommate, seems aloof to most things; however, she has strong convictions as well.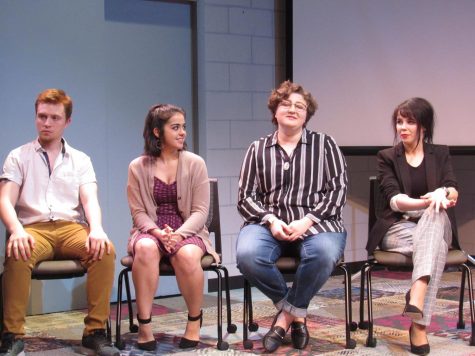 The HCC Theater Department did a great job with this production. Be on the lookout for the next one, and make sure to get your ticket early in case it sells out like "Hierarchy of Fish" did.